Product Description
Backe by a professional team, we have came up with a series of Vorapaxar Sulfate CAS 705260-08-8. Vorapaxar Sulfate CAS NO 705260-08-8 play an important role in reducing the rate of combined endpoint cardiovascular death, MI, stroke, and urgent coronary revascularization. We have high specification production requirement and advance equipment. We are proud of offering best quality Vorapaxar Sulfate 705260-08-8. Don`t hesitate contact us.
Thera. Category:protesa-activated receptor
Cas No.: 705260-08-8
Synonym: Vorapaxar Sulfate;N-[(1R,3aR,4aR,6R,8aR,9S,9aS)-9-[(1E)-2-[5-(3-Fluorophenyl)-2-pyridinyl]ethenyl]dodecahydro-1-Methyl-3-oxonaphtho[2,3-c]furan-6-yl]carbaMic Acid Ethyl Ester Sulfate;Sch 530348;SCH 530348 (H2SO4 Salt)
Molecular Formula: C29H35FN2O8S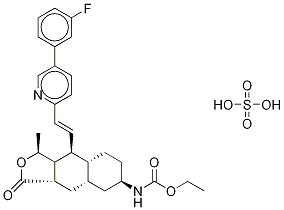 Molecular Weight: 590.6602032
Assay: ≥98.%
Packing: Export worthy packing
Material Safety Data Sheet: Available on request
Vorapaxar (brand name Zontivity, formerly known as SCH 530348) is a thrombin receptor protesa-activated receptor,PAR-1,ANTAGONISTB based on the natural product himbacine. Discovered by Schering-Plough and currently being developed by Merck& CO.
Related products:
1)CAS 899809-61-1,Vorapaxar Sulfate M-4
2)CAS 380894-77-9,Phosphonic acid;[[5-(3-fluorophenyl)-2-pyridinyl]Methyl] diethyl ester;Side chain of Vorapaxar sulfate
3)CAS Vorapaxar Sulfate,SCH 530348