Product Description
Gadobutrol Epoxy Side Chain has the chemical name of 4,4-Dimethyl-3,5,8-trioxabic-yclo[5,1,0]Octane CAS number 57280-22-5, which is the key intermediate of gadobutrol, and its purity and quality greatly affect the final product quality of gadobutrol, in the present preparation methods,it uses concentrated sulfuric acid as catalyst, or can not achieve green production in the post-processing stage, or low yield and other issues. Therefore, the development of new preparation method, there is a big real demand,especially for the workshop to enlarge and achieve green environmental requirements of the production method .After a long period of exploration, we found a more ideal gadobutrol epoxy side chain CAS number 57280-22-5 synthesis method, (Z) -but-2-ene-1,4-diol and 2,2-dimethoxypropane were prepared in the presence of a catalyst for p-toluenesulfonic acid monohydrate take Cyclization reaction to get (Z) -1,4-dimethoxybut-2-ene (hereinafter referred to as "A"), and A is purified by distillation to obtain a high-purity A, and the pH of the buffer, the alkali , Hydrogen peroxide and mixed solvent in the presence of the reaction to get the target product gadobutrol epoxy side chain, the above-mentioned PH buffer reagent is the best choice for disodium hydrogen phosphate, mixed solvent for methanol, acetonitrile and water mixed solvent. This synthetic method does not use strong acid reagents, not only reduces the production equipment corrosion grade and process equipment costs, but also safety and environmental protection.
Thera. Category: contrast agent
Cas No.: 57280-22-5
Synonym: 3,5,8-Trioxabicyclo[5.1.0]octane, 4,4-diMethyl-;4,4-diMethyl-3,5,8-trioxabicyclo[5.1.0]octane(EP2);4,4-Dimethyl-3,5,8-trioxabic-yclo[5,1,0]Octane;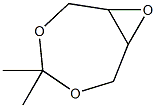 Molecular Formula: C7H12O3
Molecular Weight :144.17
Pharmacopeia: in house spe.
Specifications: Available on request
Packing: Export worthy packing
Material Safety Data Sheet: Available on request
Related Intermediates:
1) Gadobutrol Cas Number 138071-82-6
2) 4,4-Dimethyl-3,5,8-trioxabic-yclo[5,1,0]Octane CAS number 57280-22-5
3) Cyclen CAS number 294-90-6,