Product Description
Gadobutrol Cas Number 138071-82-6 is a gadolinium-based nonionic contrast agent that can be injected intravenously and used for nuclear, magnetic resonance imaging, such as the brain, spinal cord, and liver. The US FDA has been approved for its magnetic resonance imaging in patients with central nervous system in 2011. It can provide a contrast enhancement image of the central nervous system to help detect and visualize the damage to the cell barrier and the abnormal blood supply to the central nervous system and cycle. As imaging diagnostic agents, especially magnetic resonance imaging diagnostic agents, Gadobutrol Cas 138071-82-6 need higher purity than other common pharmaceutical drugs. Therefore Many pharmacists have proposed a high quality standard for gadobutrol. As a producer, we continually ask ourselves to improve the purity control of a single miscellaneous to meet the need for injection as a diagnostic agent. Because of its structural characteristics, if you want to further improve the purity, the use of existing production methods have been encountered can not cross the bottleneck, it must be converted ideas, innovative methods.
Thera. Category: contrast agent
Cas No.: 138071-82-6
Synonym: Gadobutrol;GadoliniuM ;gallium 10-(1,3,4-trihydroxybutan-2-yl)-1,4,7,10-tetraazacyclododecane-1,4,7-tricarboxylate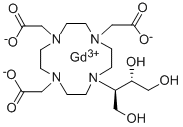 Molecular Formula: C18H31N4O9.Gd
Molecular Weight :604.712
Pharmacopeia: in house spe.
Specifications: Available on request
Packing: Export worthy packing
Material Safety Data Sheet: Available on request
Related Intermediates:
1) Gadobutrol Cas Number 138071-82-6
2) 4,4-Dimethyl-3,5,8-trioxabic-yclo[5,1,0]Octane CAS number 57280-22-5
3) Cyclen CAS number 294-90-6,