Product Description
Ramosetron Hydrochloride Cas Number is 132907-72-3, Molecular Formula is C17H18ClN3O ,Molecular Weight is 315.8,Melting point is 244-246 ° C. which is a white or almost white powder. Its main role is to prevent and treat anti-cancer drug treatment caused by nausea, vomiting and other gastrointestinal symptoms. The optimal use time is 15-30 minutes before antimalarial treatment through intravenous injection. Usually elderly patients with low physiological function, patients should be closely observed, careful dosing, When appear adverse reactions, should be treatment on time.

Thera. Category: Anticoagulant drug
Cas No.: 132907-72-3
Synonym: RAMOSETRON HCL;RAMOSETRON HYDROCHLORIDE;(1-methyl-1h-indol-3-yl)(4,5,6,7-tetrahydro-1h-benzimidazol-5-yl)-methanon;(r)-5-((1-methyl-3-indolyl)carbonyl)-4,5,6,7-tetrahydro-1h-benzimidazolehydr;(r)-monohydrochlorid;ym060;RAMOSETRON HYDROCHLORIDE 98.5% MIN

Molecular Formula:C17H18ClN3O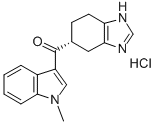 Molecular Weight:315.8
Purity: ≥98.%
Packing:Export worthy packing
Material Safety Data Sheet:Available on request
Ramosetron is a potent and selective antagonist of the serotonin (5-HT) receptor subtype 5-HT3 (Ki = 0.06 nM). It has little or no effect at other 5-HT receptor subtypes or at adrenergic or histamine receptors. Ramosetron competitively blocks serotonin-mediated contraction of the colon. It has applications in ameliorating diarrhea-predominant inflammatory bowel syndrome and postoperative nausea and vomiting.