Product Description
Diclosulam cas number145701-21-9 is a triazolopyrimidine sulfonamide herbicide, mainly used in soybean, Peanut Field pre-emergence, before planting soil treatment and control of winter wheat field seedling broadleaf weeds, it plays a role after weeds and stems and leaves rapid absorption. The rapid metabolism of diclosulam to produce inactive compounds makes him very safe for soy and peanut use. It has a wide range of applications in the United States and South America.
There are two obvious drawbacks of the conventional technique for the preparation of Diclosulam cas 145701-21-9.
1. Chlorine gas is required during the reaction. Low price of chlorine, but the large amount, and because of its high corrosive, highly toxic and other characteristics of the storage conditions, production equipment, production operations, such as demanding, severe reaction, high dangerous production. 2. The reaction process needs to be added dimethyl sulfide as a catalyst, the substance has a foul odor, and the boiling point of only 38 ℃, the person has the physiological role of dizziness, vomiting, there is a huge security risk industrial production. These factors led to the prevalence of diclosulam in the higher price range even after the patent expired in 2009, and the production volume could not meet the needs of customers.
There is a new method for the preparation of Diclosulam cas number145701-21-9, it does not use chlorine, simple operation, mild reaction, less demanding on equipment. The general idea is making the chlorine replaced by sodium nitrate and sulfuryl chloride system, change the catalyst dimethyl sulfide into 4-dimethylaminopyridine. Change Chlorine into sodium nitrate and sulfonyl chloride system to improve the quality of the resulting product, and can overcome the traditional process of using chlorine caused by the production operation and equipment requirements of high security risks and other shortcomings, the use of 4-dimethylaminopyridine as a catalyst not only Play a role in promoting the reaction and also save the cost of equipment modification needed to prevent the leakage of dimethyl sulfide odor and reduce the potential safety hazard affecting the health of operators.
Diclosulam cas number is 145701-21-9,molecular formula is C13H10Cl2FN5O3S, molecular weight is 406.22 which is effective against a range of important broadleaf weeds in soybean crops including morningglories, cocklebur, eclipta, velvetleaf. Diclosulam is also a acetolactate synthase (ALS) inhibitor. It also effectively and quickly absorbed through the roots and leaves. Diclosulam is our company important product, our quality standard is higher than other suppliers.

Thera. Category: Herbicide
Cas No.: 145701-21-9
Synonym: Strongarm; N-(2,6-DICHLOROPHENYL)-5-ETHOXY-7-FLUORO[1,2,4]TRIAZOLO[1,5-C]PYRIMIDINE-2-SULFONAMIDE;DICLOSULAM;Dienestrol diacetate solution;diclosulam (bsi,iso,ansi);xde-564;(1,2,4)Triazolo(1,5-c)pyrimidine-2-sulfonamide, N-(2,6-dichlorophenyl) -5-ethoxy-7-fluoro-;N-(2,6-Dichlorophenyl)-5-ethoxy-7-fluoro-1,2,4-triazolo[1,5-c]pyriMidin-2-sulfonaMide;

Molecular Formula:C13H10Cl2FN5O3S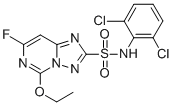 Molecular Weight:406.22
Purity: ≥98.%
Packing:Export worthy packing
Material Safety Data Sheet:Available on request