Product Description
6,6-diethoxyhexanoic acid CAS number is 155200-43-4, it used for the synthesis of pharmaceutical intermediates. The purity of 6,6-diethoxyhexanoic acid that we produced is more than 98%, which is 3% higher than the purity of the products on the market. We have achieved mass production in 2010. The quality of products in each batch is very stable, and the quality difference between batches is small.

Thera. Category:
Cas No.:155200-43-4
Synonym:6,6-diethoxyhexanoic acid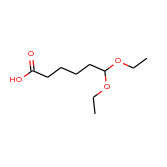 Molecular Formula: C10H20O4
Molecular Weight:204.266
Pharmacopeia: In house Spec.
Specifications:Available on request
Packing:Export worthy packing
Material Safety Data Sheet:Available on request