Product Description
Demethyl CAS11041-94-4, he is a myocardial perfusion imaging agent, its role can make the heart rate faster, increased myocardial contractility, reduced diastolic blood pressure, while increasing cardiac output, coronary blood flow , improve sinus node conduction function, good effect on sinus rhythm bradycardia. In the treatment of cardiac insufficiency and chronic heart rhythm disorders, the effect is significant. In recent years, more attention has been paid to the early diagnosis of coronary heart disease. Clinically, non-invasive diagnosis of cardiovascular disease is often combined with stress testing to improve diagnosis. Myocardial perfusion imaging has been widely used in the diagnosis of coronary heart disease, the choice of treatment options and the evaluation of the prognosis of coronary heart disease. Commonly used methods include physical load exercise test, drug intervention load test and so on. When resting (without medication) is difficult to detect myocardial ischemia, it must be diagnosed with the help of the cardiac load test agent; studies have shown that the decoction obtained from the traditional Chinese medicine has improved heart rhythm caused by atrioventricular block Abnormality, increased heart rate, increased myocardial oxygen consumption, increased coronary blood flow, etc., its role increases with increasing dose, has little effect on peripheral systolic blood pressure, and has a quick onset, has a small impact on blood pressure .
Demethyl CAS11041-94-4 is an alkaloid extracted from Acanthopanax membranaceus. It is a clinical myocardial stress test drug with promising development. Due to its unique pharmacological effects and remarkable therapeutic effects in cardiac dysfunction, it has attracted extensive attention from researchers at home and abroad in recent years and has achieved certain results.

Thera. Category: Plant extracts
Cas No.:11041-94-4
Synonym:6,7-Dihydroxy-1-(4-Hydroxybenzyl)-1,2,3,4-tetrahydroisoquinoline hydrochloride;6,7-Isoquinolinediol,1,2,3,4-tetrahydro-1-[(4-hydroxyphenyl)methyl]-, hydrochloride (1:1);1-(4-Hydroxybenzyl)-1,2,3,4-tetrahydroisoquinoline-6,7-diol hydrochloride;norcoclaurine hcl;Demethyl;1,2,3,4-Tetrahydro-1-((4-hydroxyphenyl)methyl)-6,7-isoquinolinediol hydrochloride;Higenamine hydrochloride;6,7-dihydroxy-1-(4-hydroxybenzyl)-1,2,3,4-tetrahydroisoquinoline;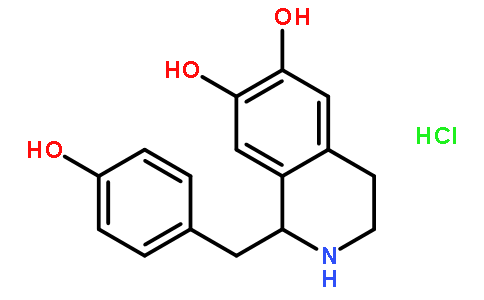 Molecular Formula: C16H17NO3.HCl
Molecular Weight:307.77202
Pharmacopeia: In house Spec.
Specifications:Available on request
Packing:Export worthy packing
Material Safety Data Sheet:Available on request