Product Description
Obeticholic Acid intermediate 7-ketolithocholic Methyl ester CAS number is 10538-59-7, also known as Obeticholic acid intermediate 2. ROBERTO et al. described his synthetic method firstly, but the total yield of this method does not exceed 5%. Because of the high cost of the reaction material, the each step reaction product needs to be purified by chromatography in the reaction step. The method is not suitable for industrial scale production. Later, YU, mattern and others made improvement on the synthesis of ROBERTO method, they use cheap, easy access Chenodeoxycholic acid as a raw material, the first step with pyridinium chlorochromate salt as oxidant, selective oxidation Chenodeoxycholic acid at the 7th hydroxyl group to obtain the corresponding compound, the second step is using p-TsOH as a catalyst and take reaction with 3,4-dihydropyran to produce 3-tetrahydropyranyloxy derivatives. Compared with the method proposed by ROBERTO, this method has been improved the product yield to more than 20% by using the pyridinium chlorochromate salt in the oxidation step. In the next few years, The process level of 7-ketolithocholic Methyl ester CAS 10538-59-7 did not make a breakthrough, the yield has been maintained at about 20% level.
Thera. Category: Cholestatic liver disease
Cas No.: 10538-59-7
Synonym: (E)-3α-hydroxy-6-ethylidene-7-keto-5β-cholan-24-oic acid;Obeticholic Acid-G;

Molecular Formula:C25H40O4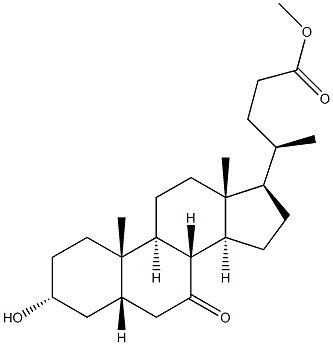 Molecular Weight: 404.5827
Purity: ≥98.%
Packing:Export worthy packing
Material Safety Data Sheet:Available on request
Obeticholic acid (Obeticholic Acid), also known as 6-ethyl chenodeoxycholic acid, is a new derivative of chenodeoxycholic acid (CDCA) in the primary bile acid, and a natural ligand for the farneside derivatives X receptor ( FXR). Oberbetaine is an agonist for farnesol X receptor, inhibiting gene expression of cytochrome 7A1 (CYP7A1) by activating the farnesol X receptor. Because CYP7A1 is the rate-limiting enzyme for biosynthesis of cholic acid, it can inhibit cholic acid synthesis and is useful in the treatment of primary biliary cirrhosis and nonalcoholic fatty liver disease.
Related products:
Obeticholic Acid Cas 459789-99-2
6 - ethyl - 3 - hydroxy - 7 - oxo -, (3α, 5β, 6β) - CAS 915038-24-3
3α-hydroxy-6-ethyl-7-keto-5β-cholan-24-oic acid CAS 915038-26-5
(E)-3A-HYDROXY-6-ETHYLIDENE-7-KETO-5 B -CHOLAN-24-0IC ACID CAS number 1516887-33-4

7-ketolithocholic Methyl ester CAS number 10538-59-7