Product Description
Dabigatran etexilate intermediate has the chemical name of N-[[2-[[[4-(AMinoiMinoMethyl)phenyl]aMino]Methyl]-1- Methyl-1H- benziMidazol-5-yl] carbonyl]-N-2-pyridinyl-beta-alanine ethyl ester 4-MethylbenzenesulfonateCAS number is 872728-85-3, which is the N-1 step intermediate of dabigatran etexilate mesylate. His preparation process is as follows: 47.7 g of ethyl dabigatran etexilate, 21.8 g of p-toluenesulfonic acid and 142 g of a 10 mol / L hydrogen chloride ethanol solution were sequentially added to a 1000 mL glass reaction flask,. The reaction solution was incubated at room temperature for 24 hours. Add 400ml Ethanol into the solution.cooled the temperate to 0℃,slowing inlet ammonia, . After the precipitate was completely then heated to 10 ° C, the mixture was incubated for 2 hours and then warmed to room temperature overnight. The solvent was evaporated under reduced pressure, add 400ml ethanol, 400mL of water was added dropwise with stirring, sodium hydroxide 2.3g was added and the temperature was raised to 55 ° C ,incubated for 45 minutes. After finished,The mixture was cooled to 10 ° C and stirred for 1 hour. The mixture was filtered and the filtrate was distilled under reduced pressure to remove ethanol. The solid was precipitated, filtered, washed once with 200 mL of water, twice with 100 mL of acetone and dried with air at 55 ° C to get 34.6gram off white solid., The white solid is the target compound dabigatran etexilate mesylate N-1 cas 872728-85-3. Product purity was 85%. Since dabigatran etexilate mesylate is difficult to remove impurities by purification, the number of unknown single impurities of dabigatran etexilate mesylate N-1 intermediate and purity result decide the quality of dabigatran etexilate mesylate. Therefore, improved the purification method,make the purity more than 95% pure andother unknown single impurity less than 0.15%, then the dabigatran etexilate mesylate meets the quality requirements of the original drug manufacturers.

Thera. Category: Antithrombotic/Blood thinners
Cas No.:872728-85-3
Synonym:Ethyl 3-(2-(((4-carbaMiMidoylphenyl)aMino)Methyl)-1-Methyl-N-(pyridin-2-yl)-1H-benzo[d]iMidazole-5-carboxaMido)propanoate 4-Methylbenzenesulfonate;Dabigatran ethyl ester tosylate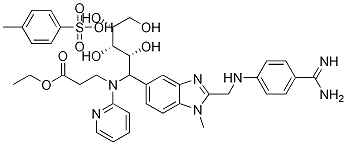 Molecular Weight:777.88628
Molecular formula: C27H29N7O3.C7H8O3S
Assay: ≥98.%
Appearance: White Crystalline solid
Packing:Export worthy packing
Material Safety Data Sheet:Available on request
Usage: It can treat and prevent blood clots, reducing the risk of stroke.

Related intermediate:
CAS

Chemical Name
Specification
Color
41263-74-5
4-(MethylaMino)-3-nitrobenzoic acid
HPLC
≥99.0%
pale brown
103041-38-9
N-[2]PYRIDYL-B-ALANIN-ETHYL ESTER
HPLC
≥99.0%
off white to white
429659-01-8
ETHYL N-[4-(METHYLAMINO)-3-NITROBENZOYL]-N-PYRIDIN-2-YL-SS-ALANINATE
HPLC
≥99.0%
orange yellow solid
42288-26-6

N-(4-CYANO-PHENYL)-GLYCINE
HPLC
≥99.0%
off white
Loss on drying
≤1.0%
212322-56-0

3-[(3-AMINO-4-METHYLAMINO-BENZOYL)-PYRIDIN-2-YL-AMINO]-PROPIONIC ACID ETHYL ESTER
HPLC
≥99.0%
off white
Melting point
101.0°C~106.0°C
Single impurity
≤0.3%
Loss on drying
≤0.5%
Residue on ignition
≤0.5%
Assay
≥98.0%
211915-84-3

Synonyms:3-[[[2-[[(4-Cyanophenyl)amino]methyl]-1-methyl-1H-benzimidazol-5-yl]carbonyl]pyridin-2-ylamino]propionic acid ethyl ester
HPLC
≥99.0%
off white
Single impurity
≤0.3%
Loss on drying
≤0.5%
Residue on ignition
≤0.5%
Assay
≥99.0%
872728-85-3
N-[[2-[[[4-(Aminoiminomethyl)phenyl]amino]methyl]-1-methyl-1H-benzimidazol-5-yl]arbonyl]-N-2-pyridinyl-beta-alanine ethyl ester 4-methylbenzenesulfonate
HPLC
≥97.0%
off white
211915-06-9

Dabigatran Etexilate
HPLC
≥98.0%
white
Single impurity
≤0.2%
Loss on drying
≤1.0%
Assay
≥98.0%
872728-81-9

Dabigatran etexilate mesylate
HPLC
≥99.0%
light yellow solid
Single impurity
≤0.5%
Loss on drying
≤1.0%
Residue on ignition
≤0.1%
Heavy melta
≤20 ppm
Assay
≥98.5%