Product Description
DELAFLOXACIN MEGLUMINE or ABT-492 MegluMine cas number is 352458-37-8,which is a new generation of broad-spectrum fluoroquinolone antibiotic. it is more effective against Gram-positive bacteria,compare with than other quinozone antibacterial agents, especially methicillin-resistant Staphylococcus aureus (MRSA), which is resistant to other quinolone antibacterial agents. The FDA first publicly announced that delafloxacin was designated as a qualified drug for the treatment of acute bacterial skin and skin structure infections (ABSSSI) and acquired pneumonia (CABP).
Due to the long synthesis steps and the impurities, the conventional method is difficult to meet the requirements of pharmaceutical grade. None of the disclosed process preparation methods mentions the purification of intermediates and finished products. There are two methods for more typical purification:
The first one is prepared by preparing an ester compound before the hydrolysis of the carboxyl group of the delafloxacin and directly reacting with the alkali metal to obtain a high-purity solid compound of the delafloxacin alkali metal salt, and then acidifying to obtain a high-purity delafloxacin. The salt of delafloxacin with meglumine is the salt of meglumine. This method reduces the number of steps and relatively increases the yield by directly preparing the metal salt of delafloxacin from the intermediate. However, the method always needs to introduce strong alkali and acid, the overall operation is still complicated, and there is a risk of introducing residue. At the same time, due to the two acid-base processes, the yield is still low, which is not conducive to industrial scale-up production.
Secondly, by adding delafloxacin to an aprotic solvent, adding water, heating and stirring and recrystallizing, a high-purity delafloxacin is obtained, which is salted with meglumine to obtain high-purity DELAFLOXACIN MEGLUMINE or ABT-492 MegluMine cas number 352458-37-8. The solvent introduced by the method, such as N-N dimethylacetamide, has a high boiling point, is not easy to be removed, has a risk of solvent residue, and has a high temperature, high energy consumption, and low yield.
The purity of the delafloxacin meglumine salt prepared by the above two methods is not high, and it is difficult to meet the medicinal requirements, and all involve conditions and processes such as acid-base, high-boiling solvent, high-temperature recrystallization, and the yield is not high. In order to overcome the above shortcomings, by studying the final step of the intermediate of the more soluble delafloxacin meglumine salt, and then hydrolyzing to obtain high-purity delafloxacin, the obtained delafloxacin can be no longer refined directly. The delafloxacin meglumine salt with a purity of >99.5%. The method has the advantages of remarkable refining effect, simple operation and high yield, and is suitable for amplifying industrial production.

Thera. Category:Anti-baceterial
Cas No.: 352458-37-8
Synonyms:ABT 492 MegluMine;ABT492 MegluMine;ABT-492 MegluMine;Delafloxacin (MegluMine);ABT-492MegluMine/ABT492MegluMine;
MF:C25H30ClF3N5O8

NW:635.17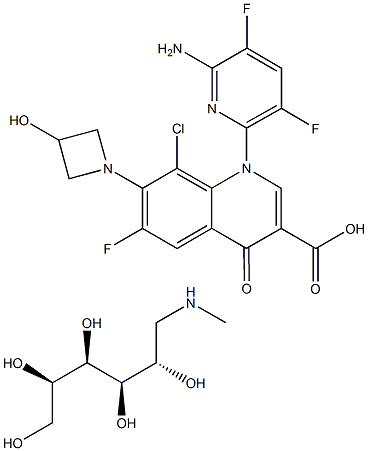 Assay: ≥99%
Packing:Export worthy packing
Material Safety Data Sheet:Available on request