Product Description
Lafutidine CAS number is 118288-08-7,which is a new generation of long-acting, potent H2 receptor antagonist, mainly used for peptic ulcer, gastritis, reflux esophagitis, gastric ulcer, duodenal ulcer and other related Symptoms of treatment. The appearance of Lafutidine is white crystalline powder, a slight odor. Studies have shown that lafutidine can inhibit gastric mucosal injury caused by various gastric stimulating factors by inhibiting the secretion of human gastric acid, basal pepsin, nocturnal secretion and secretion of tetrapeptide gastrin and other stimulating factors. Compared with other histamine H2 receptor antagonists such as cimetidine and famotidine, lafutidine CAS 118288-08-7has a stronger potency, longer duration and less recurrence after cure. But the stability of lafutidine and water solubility is poor, large amount of medicine, there are some common serious adverse reactions such as: 1, there may be appear liver damage associated with AST, ALT, г-GTP increasing and jaundice symptom. 2, there maybe appear neutropenia and thrombocytopenia, early symptoms of neutropenia manifested as: sore throat, malaise, fever and so on. 3, Like other H2 blockers drug, may cause shock, allergic symptoms, pancytopenia, aplastic anemia, thrombocytopenia, interstitial nephritis, Stevens-Johnson syndrome, toxic epidermal necrosis (Lyell's syndrome ), Rhabdomyolysis, atrioventricular block and incomplete contraction.
Thera. Category:Antiulcerative
Cas No.:118288-08-7
Synonym:acetamide,2-((2-furanylmethyl)sulfinyl)-n-(4-((4-(1-piperidinylmethyl)-2-pyrid;enyl)acetamide;frg-8813;LAFUTIDINE;n-(4-(4-piperidinylmethyl)pyridyl-2-oxy)butenyl-2-(furfurylsulfinyl)acetamide;LAFUTIDINE;(+-)-2-(furfurylsulfinyl)-n-(4-(4-(piperidinomethyl)-2-pyridyl)oxy-(z)-2-but;(z)-inyl)oxy)-2-butenyl);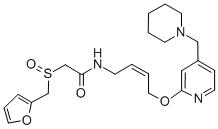 Molecular Formula: C22H29N3O4S
Molecular Weight: 431.55
Pharmacopeia: In house Spec.
Specifications:Available on request
Packing:Export worthy packing
Material Safety Data Sheet:Available on request
Usage :Intermediates for Lafutifine
Competitive Advantage: Good quality and favorable price
Related intermediate of Lafutidine
1) 4-Nitrophenyl 2-(furfurylsulfinyl)acetic acid CAS 123855-55-0)
2) N-{4-[4-(Piperidinomethyl)pyridyl-2-oxy]-cis-2-butene}phthalimide maleic acid CAS 146447-26-9
3) 2-Chloroisonicotinic acid CAS 6313-54-8
4) 406484-56-8,2-Chloro-4-(1-piperidinylmethyl)pyridine Ethanedioate
5) 118288-08-7, Lafutifine