Product Description
2-[(1S,2S)-1-Ethyl-2-(Phenylmethoxy)propyl]hydrazinecarboxaldehyde is an important intermediate of Posaconazole. Posaconazole is a triazole antifungal drug widely used in the treatment of invasive infections. The appearance of Posaconazole Intermediates CAS 170985-85-0 is white powder with the molecular formula of C13H20N2O2 and formula weight of 236.31. We can offer Posaconazole Intermediates 170985-85-0 in a proper packaging and arrange fast delivery.
Thera. Category: Anti-fungal
Cas No.: 170985-85-0
Synonym: 2-[(1S,2S)-1-Ethyl-2-(phenylmethoxy)propyl]hydrazinecarboxaldehyde;[S-(R*,R*)]-2-[1-Ethyl-2-(phenylMethoxy)propyl]hydrazinecarboxaldehyde;N'-((2S,3S)-2-(Benzyloxy)pentan-3-yl)forMohydrazide
Molecular Formula: C13H20N2O2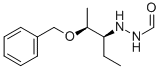 Molecular Weight: 236.31
Pharmacopeia: in house spe.
Specifications:Available on request
Packing:Export worthy packing
Material Safety Data Sheet:Available on request
Related Intermediates:
1) 149809-43-8, (5R-cis)-Toluene-4-sulfonic acid 5-(2,4-difluorophenyl)-5-(1H-1,2,4-triazol-1-yl)methyltetrahydrofuran-3-ylmethyl ester
2) 175712-02-4, 4-Chloro-benzenesulfonic acid 5-(2,4-difluoro-phenyl)-5-[1,2,4]triazol-1-ylMethyl-tetrahydro-furan-3-ylMethyl ester
3) 183871-36-5, [(2S,3S)-2-(benzyloxy)pentan-3-yl]hydrazine
4) 1-(4-Aminophenyl)-4-(4-Hydroxyphenyl)Piperazine CAS 74853-08-0
5) 2-[(1S,2S)-1-Ethyl-2-(Phenylmethoxy)propyl]hydrazinecarboxaldehyde CAS 170985-85-0
6) 2-[(1S,2S)-1-ethyl-2-bezyloxypropyl]-2,4-dihydro-4-[4-[4-(4-hydroxyphenyl)-1-piperazinyl]phenyl]- 3H-1,2,4-Triazol-3-one,
CAS184177-83-1