Product Description
Over the years experience in the industry, we can provide premium quality Posaconazole Intermediates CAS 170985-85-0. The Posaconazole Intermediates CAS NO 170985-85-0 is well-known for its high purity, secure and stable. Processed the Posaconazole Intermediates 170985-85-0 adopt finest quality ingredient form certified vendors of the market and use advanced equipment. We have ability to offer the Posaconazole Intermediates in stock and meet customers requirement.
It is recommended to use within six months, otherwise there may be the impurities become larger, purity become low and other abnormalities. We will ask the buyer to pay attention to this issue in the message and separate a clause in the contract, pls take samples of testing within 15 days after receiving the goods,for any quality objection, pls must inform us within one month, more than six months we will refuse to accept all quality disputes.
Thera. Category: Anti-fungal
Cas No.: 170985-85-0
Synonym: 2-[(1S,2S)-1-Ethyl-2-(phenylmethoxy)propyl]hydrazinecarboxaldehyde;[S-(R*,R*)]-2-[1-Ethyl-2-(phenylMethoxy)propyl]hydrazinecarboxaldehyde;N'-((2S,3S)-2-(Benzyloxy)pentan-3-yl)forMohydrazide
Molecular Formula: C13H20N2O2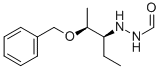 Molecular Weight: 236.31
Pharmacopeia: in house spe.
Specifications:Available on request
Packing:Export worthy packing
Material Safety Data Sheet:Available on request
Related Intermediates:
1) 149809-43-8, (5R-cis)-Toluene-4-sulfonic acid 5-(2,4-difluorophenyl)-5-(1H-1,2,4-triazol-1-yl)methyltetrahydrofuran-3-ylmethyl ester 2) 175712-02-4, 4-Chloro-benzenesulfonic acid 5-(2,4-difluoro-phenyl)-5-[1,2,4]triazol-1-ylMethyl-tetrahydro-furan-3-ylMethyl ester
3) 183871-36-5, [(2S,3S)-2-(benzyloxy)pentan-3-yl]hydrazine
4) 1-(4-Aminophenyl)-4-(4-Hydroxyphenyl)Piperazine CAS 74853-08-0
5) 2-[(1S,2S)-1-Ethyl-2-(Phenylmethoxy)propyl]hydrazinecarboxaldehyde CAS 170985-85-0
6) 2-[(1S,2S)-1-ethyl-2-bezyloxypropyl]-2,4-dihydro-4-[4-[4-(4-hydroxyphenyl)-1-piperazinyl]phenyl]- 3H-1,2,4-Triazol-3-one, CAS184177-83-1