Product Description
Ketanserin cas number 74050-98-9 is an antihypertensive agent, which can effectively reduce the fluctuation of blood pressure. The effect of lowering blood pressure fluctuation is related to its improvement of arterial baroreflex sensitivity. After a large number of experimental studies on rats, it has been shown that Ketanserin can improve the baroreflex sensitivity of spontaneously hypertensive rats. Ketanserin cas number 74050-98-9 has no antihypertensive effect on normal people. Clinical use is mainly used for mild, moderate or severe high blood pressure, but also for congestive heart failure and Raynaud's disease, the study also found it has new use in myocardial infarction, inflammatory pain and sexual dysfunction. As the ketanserin has the characteristics of blocking 5-HT2A receptors, Ketanserin cas 74050-98-9 as the main functional drug ingredients, supplemented by gelatin and CM cellulose sodium salt of the adhesive, DMSO and glycerol moisturizer, kaolin, L-camphor and water excipients can be made into ketanserin topical analgesics. According to the use of different parts or the situation of the wound, and further formulated into patch-type, ointment, water-based topical analgesics, through the local administration, so that through its skin, the role of inflammation, analgesic effect is indeed lasting, To achieve the purpose of treating the symptoms.
Thera. Category: Antihypertensive

Cas No.: 74050-98-9
Synonym:Ketensin;Perketan;R-49945;Serefrex;3-[2-[4-(4-fluorobenzoyl)-1-piperidinyl]ethyl]-2,4[1h,3h]-quinazolinedione;KETANSERIN;3-[2-[4-(4-Fluorobenzoyl)-1-piperidinyl]ethyl]-2,4-(IH,3H)-quinazolinedione;Ket;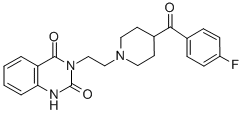 Molecular Formula:C22H22FN3O3
Molecular Weight: 395.43
Assay: ≥99.%
Packing: Export worthy packing
lMaterial Safety Data Sheet: Available on request
Usage:Ketanserin cas number 74050-98-9 is a drug used clinically as an antihypertensive agent and in scientific research to study the serotonin system; specifically, the 5-HT2 receptor family.