AHU-377 CAS number is 149709-62-6, AHU377 is a prodrug that converts the active form of the enzyme cleavage LBQ657 ethyl ester with a 1:1 molar ratio of the angiotensin IIAT1 receptor antagonist valsartan, As a constituent of LCZ696, LCZ696 belongs to the dual inhibitors of angiotensin II (AT2) receptor and Neprilysin receptor. Its antihypertensive effect is superior to standard antihypertensive drugs, and it is a new type of drug for treating heart failure. The drug's milestone III efficacy and safety exceeds the clinical standard drug enalapril. In this drug clinical trial, mild to moderate hypertension for a double-blind, phase II trial was given to a combination of 100 to 400 mg, 80 to 320 mg of valsartan, and 200 mg of neprilysin or placebo. The effect of the combination drug was more pronounced and well tolerated, with no report of avascular edema.
AHU-377 CAS number 149709-62-6 has many synthetic methods and long route. According to the statistics of actual production data, the method of using (R)-4-phenyl-2-oxazolidinone and dichloromethane as starting materials is the best.


AHU377 calcium salt CAS number 149709-62-6, It is a component of LCZ696. Its synthesis difficulty is the chiral center building of 2R- methyl -4S- carboxyl propylene amide.Company Ciba-Geigy's researchers first reported non natural D- tyrosine as the synthetic method of AHU377 calcium salt. The operation process generally as following, use Trifluoromethanesulfonate from boc-D-tyrosine methyl ester hydroxyl and phenylboronic acid by Suzuki coupling reaction to get biphenyl alanine ester with protecting group. After the hydrolysis of esters, acyl hydroxylamination and Lithium aluminium hydride reduction to get corresponding biphenyl alanine aldehyde. Biphenyl alanine aldehyde by Wittig reaction, catalytic hydrogenation and removal of Boc protective group of free amine precursor of AHU-377 CAS149709-62-6 . Then reacted with Succinic anhydride to obtain final product. The raw material used for the synthesis and many precious metals reagents are very expensive in synthesis, the reaction steps are more. Subsequently, Novartis company reported from the L-Pyroglutamic acid as the starting material to synthesize method of AHU377 calcium salt CAS 149709-62-6. L-Pyroglutamic acid and biphenyl metal reagent addition, selective reduction of carbonyl group, amino protection, methylation, alcoholysis to get 2R- methyl -4S- amino -5- biphenyl ethyl valerate, Then react with Succinic anhydride to obtain final product. This method exists many steps, harsh operating conditions, and the chiral amino ketones is easy isomerization, chiral methyl selectivity is not high. Recently, the Novartis company and the University of Cambridge company cooperated together to research the synthesis method of AHU377 from biphenyl acetaldehyde, chiral tert butyl methacrylate sulfinamides. China company suggest an innovative approach that use chiral reagent Betty base and 2R- methyl -4-oxobutanoic acid synthesis of AHU377 calcium salt CAS number 149709-62-6. But the source of chiral reagent Betty base and 2R- methyl -4-oxobutanoic acid is difficult to find.
Thera. Category: Anti-Hypertensive
Cas No.: 149709-62-6

Synonym: (alphaR,gammaS)-gamma-[(3-Carboxy-1-oxopropyl)amino]-alpha-methyl-[1,1'-biphenyl]-4-pentanoic acid 4-ethyl ester calcium salt (2:1); AHU-377 hemicalcium salt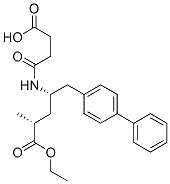 Molecular Formula: C24H29NO5
Molecular Weight: 411.49
Assay: ≥99.%
Packing: Export worthy packing
lMaterial Safety Data Sheet: Available on request
Usage: LCZ(Sacubitril) Intermediates
(2R,4S)-ethyl 5-([1,1'-biphenyl]-4-yl)-4-((tert-butoxycarbonyl)aMino)-2-Methylpentanoate 149709- 60-4

(2R,4S)-4-Amino-5-(biphenyl-4-yl)-2-methylpentanoic acid ethyl ester hydrochloride 149690-12-0
(2R,4S)-5-(Biphenyl-4-yl)-4-[(tert-butoxycarbonyl)amino]-2-methylpentanoic acid 1012341-50-2

(R,E)-5-([1,1'-biphenyl]-4-yl)-4-((tert-butoxycarbonyl)aMino)-2-Methylpent-2-enoic acid 1012341-48-8

(R)-Ethyl 5-([1,1'-biphenyl]-4-yl)-4-((tert-butoxycarbonyl)amino)-2-methylpent-2-enoate. 149709-59-1