Product Description
We are well known in the market for offering Cediranib CAS 288383-20-0. Excellent quality, high purity, safe and reliable are its features that appreciated by our customers. Cediranib CAS NO 288383-20-0 not only a potent inhibitor of vascular endothelial growth factor (VEGF) receptor tyrosine kinases, but also a highly potent inhibitor of recombinant KDR tyrosine kinase activity in vitro (IC50 < 1 nmol/L). We have rich experience and professional express team that can ensure Cediranib 288383-20-0 transported in a safe way.
Thera. Category: A tyrosine kinase inhibitor
Cas No.: 288383-20-0
Synonym: Cediranib;4-(4-Fluoro-2-methylindol-5-yloxy)-6-methoxy-7-[3-(pyrrolidin-1-yl)propoxy]quinazoline;Cadiranib (AZD2171);Cediranib(AZD2171);AZD2171;Recentin;Cadiranib;Cediranib R
Molecular Formula: C25H27FN4O3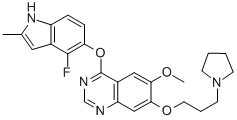 Molecular Weight: 450.51
Assay: ≥98.%
Appearance: Crystalline solid

Packing:Export worthy packing
Material Safety Data Sheet:Available on request
Solubility:DMSO (10 mM)
Storage Temp.: -20°C
Shipping Conditions: RT
Handling: Protect from air and moisture
Related Intermediates:
1)CAS # 288383-20-0,Cediranib (AZD2171)
2) CAS #288385-88-6,4-Fluoro-5-hydroxy-2-methylindole
Cediranib (AZD2171) is a tyrosine kinase inhibitor that targets vascular endothelial growth factor receptors (VEGFR) 1, 2, and 3, c-KIT, and platelet-derived growth factor receptors. Studies show cediranib to be generally well tolerated as monotherapy at doses of 45 mg/d or less.