Product Description
CAS # 288383-20-0,Cediranib (AZD2171) We hold the expertise to offer a range of Cediranib CAS 288383-20-0 which is a Antineoplastic. Cediranib CAS NO 288383-20-0, also known as AZD2171, is a potent inhibitor of vascular endothelial growth factor (VEGF) receptor tyrosine kinases. We can also provide free sample to meet customers requirement. Patrons can avail this range according to their demands and requirements.
Thera. Category: A tyrosine kinase inhibitor
Cas No.: 288383-20-0
Synonym: Cediranib;4-(4-Fluoro-2-methylindol-5-yloxy)-6-methoxy-7-[3-(pyrrolidin-1-yl)propoxy]quinazoline;Cadiranib (AZD2171);Cediranib(AZD2171);AZD2171;Recentin;Cadiranib;Cediranib R
Molecular Formula: C25H27FN4O3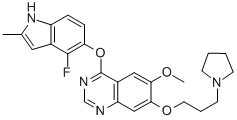 Molecular Weight: 450.51
Assay: ≥98.%
Appearance: Crystalline solid

Packing:Export worthy packing
Material Safety Data Sheet:Available on request
Solubility:DMSO (10 mM)
Storage Temp.: -20°C
Shipping Conditions: RT
Handling: Protect from air and moisture
Related Intermediates:
1)CAS # 288383-20-0,Cediranib (AZD2171)
2) CAS #288385-88-6,4-Fluoro-5-hydroxy-2-methylindole
Cediranib (AZD2171) is a tyrosine kinase inhibitor that targets vascular endothelial growth factor receptors (VEGFR) 1, 2, and 3, c-KIT, and platelet-derived growth factor receptors. Studies show cediranib to be generally well tolerated as monotherapy at doses of 45 mg/d or less.