Product Description
Tenofovir alafenamide, abbreviated as TAF, CAS number is 379270-37-8, compared with tenofovir dipivoxil, it achieves an excellent effect only use one-tenth dose than tenofovir dipivoxil. it approved the listing by the US FDA In November 2017, the trade name is Vemlidy, for the treatment of patients with chronic hepatitis B with compensated liver disease, as a nucleoside reverse transcriptase inhibitor, which is Tenofovir prodrug, compared with tenofovir dipivoxil, it has a stronger antiviral activity, can effectively enter the lymphoid tissue. Tenofovir alafenamide is less soluble in water and is usually processed into a salt form for oral administration in the form of a tablet. For tablets, the stability and solubility of the crystalline form have a greater impact on bioavailability. One requirement of a pharmaceutically acceptable active ingredient is that it has a suitable dissolution profile which is an important contributor to the bioavailability of the pharmaceutical compound and that tenofovir alafenamide, when processed into a salt form,the solubility is greatly increased.
In clinical trials, tenofovir alafenamide has been shown to have a very high antiviral effect at doses equivalent to one tenth of tenofovir dipivoxil, while reducing the effects on renal function and Skeletal side effects. At present, tenofovir alafenamide unilateral and compound preparations have been marketed in the United States, China and Europe, respectively, obtaining marketing permission for the treatment of AIDS and hepatitis B. Tenofovir alafenamide 379270-37-8 has become one of the most eye-catching drugs in the global pharmaceutical market.
Tenofovir Alafenamide fumarate as known as GS-7340, CAS number is 379270-37-8 which is used to treat for compensatory liver disease in chronic hepatitis B, AIDS. It interferes with the function of hepatitis B virus DNA polymerase inhibition of hepatitis B virus replication, reducing serum and liver tissue viral load. it was formally approved for the treatment of chronic hepatitis B in 2016 year. GS-7340 is a prodrug of tenofovir, its treatment can be completely comparable with tenofovir, and has good bioavailability, dose and toxicity is far less than tenofovir. In the current treatment of hepatitis B in all drugs must comply with the principle of long-term use, in the course of medication if the sudden withdrawal may be an acute liver disease increased, or even liver failure. Therefore, the development of new drugs with high efficiency, low toxicity and high bioavailability, and how to prevent and reduce the incidence of drug resistance is a hotspot in the research and application of anti-HBV drugs. Therefore, the clinical advantages of Tenofovir Alafenamide fumarate (TAF) came into being.
Thera. Category: Anti-HIV
Cas No.:379270-37-8
Synonym: GS-7340;Tenofovir alafenamide hemifumarate;(S)-Isopropyl 2-(((S)-((((R)-1-(6-amino-9H-purin-9-yl)propan-2-yl)oxy)methyl)(phenoxy)phosphoryl);GS-7340/GS7340;Tenofovir Alafenamide fumarate, N-[[S(P)]-[2-(Adenin-9-yl)-1(R)-methylethoxymethyl](phenoxy)phosphoryl]-L-alanine isopropyl ester;Tenofovir Alafenamide fumarate;(S)-Isopropyl 2-(((S)-((((R)-1-(6-amino-9H-purin-9-yl)propan-2-yl)oxy)methyl)(phenoxy)phosphoryl)amino)propanoate;Tenofovir Alafenamide (GS-7340);

Molecular Formula:C21H29N6O5P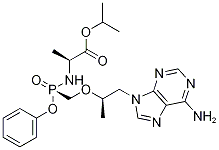 Molecular Weight:476.465921
Purity: ≥98.%
Packing:Export worthy packing
Material Safety Data Sheet:Available on request
Tenofovir alafenamide, also known as TAF and GS-7340, is a nucleotide reverse transcriptase inhibitor (NRTIs) and a novel prodrug of tenofovir. By blocking reverse transcriptase, TAF prevent HIV from multiplying and can reduce the amount of HIV in the body. Tenofovir alafenamide is a prodrug, which means that it is an inactive drug. In the body, tenofovir alafenamide is converted to tenofovir diphosphate (TFV-DP). Tenofovir alafenamide fumarate was approved in November 2015 for treatment of HIV-1.
Related Intermediate:
1) Phenyl ((((R)-1-(6-amino-9H-purin-9-yl)propan-2-yl)oxy)methyl)phosphonate 379270-35-6
2) GS-7340 intermediate 379270-36-7
3) GS-7340 CAS 379270-37-8
4) Tenofovir alafenamide hemifumarate CAS 1392275-56-7