Product Description
The Obeticholic Acid intermediate 3α-hydroxy-6-ethyl-7-keto-5β-cholan-24-oic acid CAS number is 915038-26-5, his synthesis process is as following:
(1). 4.16 g of 3Α-hydroxy-7-oxo-5Β-cholanoic acid and 2.02 g of triethylamine were dissolved in 50 ml of dimethylformamide, and the system was degassed by ultrasonic vacuum for 5 minutes, followed by argon replacement. After the replacement, 1.86 g of benzyl mercaptan was added by a syringe, and the reaction was stirred at 55 ° C, and TLC was followed until the disappearance of the starting point, the reaction was stopped to obtain 3.8 g of a white solid powder;
(2) The corresponding reaction system was prepared by dissolving 3.8 g of the white-like solid powder obtained in the step 1 in an aqueous solution of sodium hydroxide. Take 10 g of commercially available Raney Ni, filter it out, wash it with purified water, add it to the reaction system, react at 90 ° C to carry out reductive desulfurization reaction, trace by TLC, cool down after completion of the reaction, filter, and filter the metal slag as solid waste. , the filtrate was poured into 450 ml of water, hydrochloric acid was added to adjust the solution to acidity, stirred, and the precipitated solid was filtered out to obtain 2.9 g of a mixture of α- and β-isomers of oleic acid;
(3) Adding 2.9 g of the mixture of α- and β-isomers obtained in the step 2 to a sealed reaction tube, adding 40 ml of methanol, adding 10 ml of a 10% sodium hydroxide solution under stirring, sealing the reaction system, and raising the temperature to 105 ° C. The reaction was carried out for 1 hour to carry out an epimerization reaction. After completion of the reaction, the mixture was cooled to 2 ° C. A 20% aqueous phosphoric acid solution was added dropwise to the reaction system, and the mixture was stirred for 16 hours, and then added to a methanol-water mixed system to precipitate white crystals. After filtration, the crystals were washed with purified water and dried to constant weight at 80 ° C in a blast drying oven to obtain a high purity Obeticholic Acid intermediate 3α-hydroxy-6-ethyl-7-keto-5β-cholan-24-oic acid CAS 915038-26-5.

Obeticholic Acid minus one step intermediate 3α-hydroxy-6-ethyl-7-keto-5β-cholan-24-oic acid, we are also called Obeticholic Acid N-1, It is cas number of 915038-26-5, Molecular formula is C26H40O4, molecular weight is 418.60928. The intermediate of obeticholic Acid scale has been reached tens of kilograms, we produced at least six batches per year or more. We have established extensive relationships with large pharmaceutical companies. The product is major supplying to India with commercial quantities, and we have completed the Indian company's questionnaire and technical data audit. For the need of samples to test, please feel free to contact us. We have the ability and confidence of becoming the most competitive supplier of Obeticholic Acid N-1 Cas 915038-26-5.
Thera. Category: Cholestatic liver disease
Cas No.:915038-26-5
Synonym: (R)-4-((3R,5R,8S,9S,10R,13R,14S,17R,E)-6-ethylidene-3-hydroxy-10,13-dimethyl-7-oxohexadecahydro-1H-cyclopenta[a]phenanthren-17-yl)pentanoic acid

Molecular Formula:C26H42O4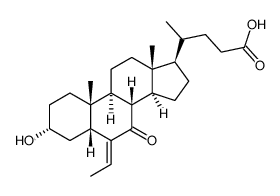 Molecular Weight: 418.60928
Purity: ≥98.%
Packing:Export worthy packing
Material Safety Data Sheet:Available on request
Obeticholic acid (Obeticholic Acid), also known as 6-ethyl chenodeoxycholic acid, is a new derivative of chenodeoxycholic acid (CDCA) in the primary bile acid, and a natural ligand for the farneside derivatives X receptor ( FXR). Oberbetaine is an agonist for farnesol X receptor, inhibiting gene expression of cytochrome 7A1 (CYP7A1) by activating the farnesol X receptor. Because CYP7A1 is the rate-limiting enzyme for biosynthesis of cholic acid, it can inhibit cholic acid synthesis and is useful in the treatment of primary biliary cirrhosis and nonalcoholic fatty liver disease.
Related products:
Obeticholic Acid Cas 459789-99-2
6 - ethyl - 3 - hydroxy - 7 - oxo -, (3α, 5β, 6β) - CAS 915038-24-3
3α-hydroxy-6-ethyl-7-keto-5β-cholan-24-oic acid CAS 915038-26-5
Obeticholic Acid Intermediate 3 CAS number is 1516887-33-4