Product Description
CAS 761440-16-8, 2,5-Dichloro-N-(2-(isopropylsulfonyl)-phenyl)pyrimidin-4-amine
We are professional Intermediates of CAS 761440-16-8, 2,5-Dichloro-N-(2-(isopropylsulfonyl)-phenyl)pyrimidin-4-amine manufacturers and suppliers in China. which is an intermediate Ceritinib.These high quality products are formulated by adopting quality methods and using well-tested ingredients that are procured from the certified vendors of the market. We offer these products in proper packaging of diverse quantity to meet assorted requirements of the clients.
l Thera. Category:Anti- cancer
l Cas No.: 761440-16-8
l Synonym:(2,5-Dichloropyrimidin-4-yl)[2-[(propan-2-yl)sulfonyl]phenyl]amine; 4-Pyrimidinamine, 2,5-dichloro-N-[2-[(1-methylethyl)sulfonyl]phenyl]-; (2,5-Dichloropyrimidin-4-yl)[2-(propane-2-sulfonyl)phenyl]-amine;
l Molecular Formula:C13H13Cl2N3O2S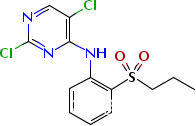 l Molecular Weight:346.23112.
l Assay: ≥98.%
l Packing:Export worthy packing
l Material Safety Data Sheet:Available on request
l Usage: Intermediate of Cerutinib
Related Intermediates :

1. CAS 1032903-50-6,1-Chloro-5-isopropoxy-2-methyl-4-nitrobenzene
2. CAS 76697-50-2,1-Amino-2-(isopropylsulphonyl)benzene
3. CAS 761440-16-8, 2,5-Dichloro-N-(2-(isopropylsulfonyl)-phenyl)pyrimidin-4-amine