Product Description
Nintedanib referred to as Vargatef Base or BIBF-1120,BIBF 1120,BIBF1120, CAS number is 928326-83-4. It is an anti-tumor drug. In the treatment of idiopathic pulmonary fibrosis (IPF) worthy of our expectations. IPF is a fatal lung disease that is severely endangered by humans, with a median survival after diagnosis of only 2 to 3 years. Prior to Nidanib, there was no FDA approval for the treatment of IPF. Nintedanib has previously been awarded the groundbreaking treatment by the FDA, and the approval also makes Nintedanib become the first and only tyrosine kinase inhibitor (TKI) approved for the treatment of IPF.

Thera. Category: A Potent Kinase Inhibitor
Cas No.: 928326-83-4
Synonym: Vargatef Base or BIBF-1120;BIBF1120,BIBF-1120,Vargatef;VargatefTM BIBF;Nintedanib Esylate(BIBF-1120);Nintedanib, >=98%;BIBF-1120;BIBF-1120(Vargatef);VARGATEF ( BIBF1120 );

Molecular Formula: C31H33N5O4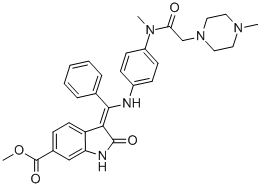 Molecular Weight: 539.633
Purity: ≥98.%
Packing:Export worthy packing
Material Safety Data Sheet:Available on request
BIBF1120 (Vargatef) is an indolinone derivative potently blocking VEGF-, PDGF-, and FGF-receptor kinases; an indolinone as triple angiokinase inhibitors.
1) Methyl 2-oxoindole-6-carboxylate CAS 14192-26-8
2) Methyl 1-acetyl-2-oxoindoline-6-carboxylate CAS 676326-36-6