Product Description
Nintedanib is referred to as BIBF 1120 CAS number is 656247-17-5, molecular weight is C31H33N5O4 molecular formula is 539.62482. Nintedanib is an oral administration of triple tyrosine kinase inhibitors, targets include platelet-derived growth factor (PDGF), vascular endothelium Growth factor (VEGF) and basic fibroblast growth factor (bFGF), but also inhibit MAPK and Akt activation. At present, mainly for cancer treatment, such as colorectal cancer, ovarian cancer, multiple myeloma. Nintedanib's application for marketing authorization for Idiopathic Pulmonary Fibrosis (IPF) in 2014 was confirmed by the European Medicines Agency (EMA) and included in the accelerated approval list by the EMA.

Thera. Category: A Potent Kinase Inhibitor
Cas No.: 656247-17-5
Synonym:Nintedanib (BIBF 1120);Nintedanib/Intedanib/Vargatef;Intedanib Vargatef;methyl (3Z)-3-[[4-[methyl-[2-(4-methylpiperazin-1-yl)acetyl]amino]anilino]-phenylmethylidene]-2-oxo-1H-indole-6-carboxylate Nintedanib (BIBF 1120);Vargatef (nintedanib); Intedanib;Vargatef;Nintedanib;

Molecular Formula: C31H33N5O4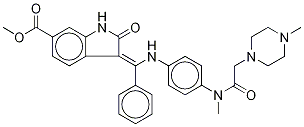 Molecular Weight: 539.62482
Purity: ≥98.%
Packing:Export worthy packing
Material Safety Data Sheet:Available on request
BIBF1120 (Vargatef) is an indolinone derivative potently blocking VEGF-, PDGF-, and FGF-receptor kinases; an indolinone as triple angiokinase inhibitors.