Product Description
ASCORBYL TETRA-2-HEXYLDECANOATE CAS 183476-82-6, appearance is colorless to light yellow liquid. He mainly has both synthetic and natural forms. Tetrahexyldecylascorbate has a variety of effects in the human body, including anti-cancer, preventing heart attacks, slowing down skin aging, and the like. His anti-oxidant effect can prevent free radicals from harming cells and prevent cell variability. He can also block nitrites and secondary amines from forming strong carcinogen nitrosamines. The intake of a sufficient amount of tetrahexyldecylascorbate also enables the brain to be nutritionally supplemented in a timely manner, so that the brain power is improved and the intelligence is improved. He is slightly acidic, he is taken into the body as a micronutrient, dissolved and digested in the body, its acidity and alkalinity have minimal impact on the human body, so do not have to care too much about its acidity and alkalinity. Oral natural tetra-n-hexyl tannin ascorbate absorbed from the gastrointestinal tract only reached 7%-9% of the skin, the whitening effect is limited, it is recommended that the natural tetrahexyldecylascorbate directly applied to the skin, the effect is also faster and easier to be skin absorb.
It is well known that the use of a fruit containing a natural tetrahexyldecylascorbate CAS 183476-82-6 number spreads the skin black due to the photosensitive component of the peel. However, many people also mistakenly believe that the skin care products coated with tetrahexyldecylascorbate can only be used at night, and rubbing during the day will have the opposite effect. In this regard, the doctor said that tetrahexyldecylascorbate can be whitened and used during the day to resist ultraviolet rays and achieve the effect of sun protection. There are three major reasons for the darkening of the skin: 1. The increase in melanin caused by the sun, such as dark spots, freckles and so on. 2. The formation of melanin deposition after skin inflammation, such as acne, eczema, mosquito bites. 3. Excessive accumulation of keratinocytes causes dull skin. The factors that cause skin darkening due to sun exposure can be prevented by diligent sun protection. Sun exposure causes free radicals in the cell membrane, stimulates melanin synthesis, produces an oxidative reaction, and causes skin darkening, while tetrahexylsterol ascorbate is a super antioxidant that has the ability to inhibit and restore melanin. He is weakly acidic, not irritating, and is very suitable for application on the skin surface. At the same time, he has the effect of promoting collagen regeneration, anti-aging and wrinkle-reducing effects.
Thera. Category: Cosmetic additive
Cas No.:183476-82-6
Synonym:ASCORBYL TETRA-2-HEXYLDECANOATE;L-Ascorbic acid, tetrakis(2-hexyldecanoate);L-Ascorbic acid,2,3,5,6-tetrakis(2-hexyldecanoate);BV-OSC;Nikkol VC-IP;VC-IP;Vitamin C tetra-isopalmitate;tetrahexyldecylascorbate ;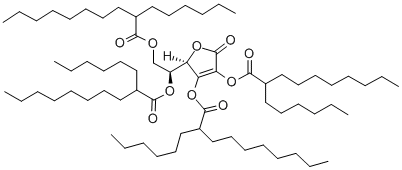 Molecular Formula: C70H128O10
Molecular Weight:1129.76
Pharmacopeia: In house Spec.
Specifications:Available on request
Packing:Export worthy packing
Material Safety Data Sheet:Available on request