Product Description
Macitentan cas number is 441798-33-0 which is a two-way endothelin receptor antagonist used clinically to treat pulmonary hypertension to slow disease progression. It is the third endothelin receptor antagonist listed on Bosentan and Anritsu, and was developed by Actelion Pharmaceuticals of Switzerland. In November 2013, Actilion Pharmaceuticals produced the first cetibine tablets in the United States for the treatment of pulmonary hypertension. In 2014, the same indications were listed in the EU, Canada, Australia and other countries and regions, and will be listed in 2015. The country continues to expand to Asian countries such as Japan and South Korea. Currently, it has been listed in more than 30 countries and regions around the world.
Macitentan cas number 441798-33-0 is an achiral sulfadiazine derivative. In vitro studies have shown that it is an orally active endothelin ETA and ETB receptor antagonist that blocks endothelin-induced vasoconstriction in the trachea and aorta. . Macitentan is mainly metabolized by CYP3A4 into the active metabolite ACT-132577 in vivo, both of which inhibit the biological activity of ET-1 binding to ETA and ETB. Both macitentan and ACT-132577 prevented ET-1 from binding to ETA and ETB receptors, further preventing ET-1 induced intracellular calcium increase and vasoconstriction. In deoxycorticosterone acetate hypertensive rats, a single dose of 10 mg of macitentan reduced arterial blood pressure (26 ± 4) mmHg, and a single dose of 100 mg bosentan reduced arterial blood pressure (20 ± 5). mmHg, both have no effect on heart rate. When the concentration of macitentan is 10 times lower than that of bosentan, it can cause equal or even better antihypertensive effect, and the duration of action of macitentan is bosentan 2 times, showing the pharmacological activity of macitentan over bosentan
Macitentan is a novel oral ETRA and ETRB dual endothelin receptor antagonist. After oral absorption, it is metabolized by CYP3A4 and finally excreted in the feces and urine. The route of urine excretion is more important. After a single dose of 10 mg of macitentan in healthy male volunteers, the peak plasma concentration was 8-10 h and the half-life was 13 h. The active metabolite ACT-132577 had a peak plasma concentration of 48 h and a half-life of 44 h. The blood concentrations of macitentan and ACT-132577 were generally lower in healthy liver dysfunction in patients with different degrees of liver dysfunction, but no clinically relevant differences were found in the trial. When patients with different degrees of liver injury were treated with macitentan. There is no need to adjust the amount of the drug.

Thera. Category: Pulmonary Hypertension Treatment
Cas No.: 441798-33-0

Synonym:ACT 064992;ACT-064992;ACT-064992 / ACT064992;SulfaMide,N-[5-(4-broMophenyl)-6-[2-[(5-broMo-2-pyriMidinyl)oxy]ethoxy]-4-pyriMidinyl]-N'-propyl-;Macitentan (Actelion-1,ACT-064992);N-[5-(4-Bromophenyl)-6-[2-[(5-bromo-2-pyrimidinyl)-oxy]ethoxy]-4-pyrimidinyl]-N'-propylsulfami;macitentan;N-[5-(4-Bromophenyl)-6-[2-[(5-bromo-2-pyrimidinyl)oxy]ethoxy]-4-pyrimidinyl]-N'-propylsulfamide;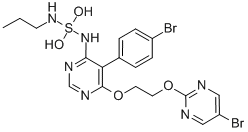 Molecular Formula:C19H20Br2N6O4S
Molecular Weight:590.295
Assay: ≥99.%
Packing: Export worthy packing
Material Safety Data Sheet: Available on request