Product Description
Estrone cas number 53-16-7, White plate crystal or crystalline powder. It is stable in the air, an important intermediate of stradiol, ethinyl estradiol, ethinyl estradiol and a series of estrogen drugs and 19 - desmethyl steroids. Mainly for uterine hypoplasia, menstrual disorders and menopausal disorders. It will cause nausea, vomiting, dizziness. Long use can cause endometrial hyperplasia bleeding. A class of chemicals that are commonly found in a living body and are closely related to the biological life process,as known as the key to life. Estrone as an important steroid compound intermediates, which are subject to more research and attention. At present, mainly in the main synthetic, but there are long lines, steps to put more, low yield problems. With natural sterols as raw materials by microbial effects of estrone is the future direction of technological development.
Estrone CAS Number 53-16-7is Crystalline Solid, A metabolite of 17β-Estradiol. which is manufactured to the highest quality standards. To receive a price quote on Estrone, please provide us with the quantity and purity percentage of the compound. You can also contact us by phone at 0086-576-88869393. Alternatively, you can email us and we will happy to meet your Steroids Compound requirements.
Thera. Category:
Hormoues Series
Cas No.:53-16-7
Synonym: Estrone ;3-Hydroxy-1,3,5-(10)-oestratrien-17-one;3-Hydroxy-1,3,5(10)-oestratrien-17-one;3-hydroxy-17-keto-estra-1,3,5-triene;3-Hydroxy-17-ketoestra-1,3,5-triene;3-hydroxy-17-keto-oestra-1,3,5-triene
Molecular Structure: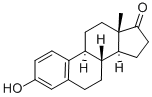 Molecular Formula:C18H22O2
Molecular Weight:270.39
Pharmacopeia: in house spe.
Specifications:Available on request
Packing:Export worthy packing
Material Safety Data Sheet:Available on request