Product Description
Medroxyprogesterone acetate also named Megestrol Acetate cas number 595-33-5 is mainly used for the treatment of advanced breast cancer and advanced endometrial cancer, kidney cancer, prostate cancer and ovarian cancer also have a certain effect. And can improve the appetite and cachexia of patients with advanced cancer. But can not replace the currently accepted treatment measures, such as surgery, radiotherapy or chemotherapy. It is absorbed from the gastrointestinal tract, mainly from the urine, can also be discharged from the feces, metabolites for glucuronide. Although the exact mechanism of the anti-tumor effect of megestrol acetate on endometrial cancer is unknown, it is generally believed to be an anti-progesterone effect through the pituitary gland. Treatment of breast and prostate cancer with synthetic methotrexate is a significant side effect that enhances appetite, increases weight, and is not necessarily associated with fluid retention. This is a very favorable side effect.
In addition, methylprednisolone acetate cas 595-33-5 is a highly effective luteinizing hormone, in addition to estrogen compatibility for oral contraceptives, the use alone can be used as quick-acting contraceptives.

An angiostatic steroid Medroxyprogesterone 17-Acetate CAS 71-58-9 as known as Medroxyprogesterone Acetate which is manufactured to the highest quality standards. To receive a price quote on Medroxyprogesterone Acetate, please provide us with the quantity and purity percentage of the compound. You can also contact us by phone at 0086-576-88869393. Alternatively, you can email us and we will happy to meet your Steroids Compound requirements.
Thera. Category:
Hormoues Series
Cas No.:595-33-5
Synonym:17-Hydroxy-6-methylpregna-4,6-diene-3,20-dione17-acetate;5071;6-dehydro-6-methyl-17-alpha-acetoxyprogesterone;6-Dehydro-6-methyl-17alpha-acetoxyprogesterone;17-(acetyloxy)-6-methylpregna-4,6-diene-3,20-dione;17-Acetoxy-6-methylpregna-4,6-diene-3,20-dione;17-alpha-acetoxy-6-dehydro-6-methylprogesterone;17alpha-Acetoxy-6-dehydro-6-methylprogesterone;
Molecular Structure: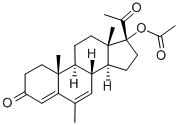 Molecular Formula:C24H32O4
Molecular Weight:384.51
Pharmacopeia: in house spe.
Specifications:Available on request
Packing:Export worthy packing
Material Safety Data Sheet:Available on request