Product Description
Tenofovir alafenamide hemifumarate intermediate 2,CAS number is 379270-36-7, this intermediate is more difficult and has more chiral to synthesize than other intermediates of Tenofovir alafenamide hemifumarate. Our products are high HPLC purity and chiral purity, and we can provide the relevant test result. we have deep study on this intermediate, and we have also been extracted its associated impurities with certain inventory, it can be used as production and research at any time.The supply of Tenofovir alafenamide hemifumarate intermediate 2 is stable, reliable, and if you choose to cooperate with us, we will let you to enjoy the inexpensive value-added services.

Thera. Category: Anti-HIV
Cas No.:379270-36-7
Synonym: Phenyl ((((R)-1-(6-amino-9H-purin-9-yl)propan-2-yl)oxy)methyl)phosphonate

Molecular Formula:C21H29N6O5P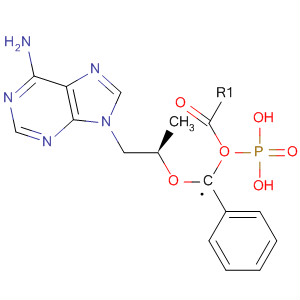 Molecular Weight:
Purity: ≥98.%
Packing:Export worthy packing
Material Safety Data Sheet:Available on request
Tenofovir alafenamide, also known as TAF and GS-7340, is a nucleotide reverse transcriptase inhibitor (NRTIs) and a novel prodrug of tenofovir. By blocking reverse transcriptase, TAF prevent HIV from multiplying and can reduce the amount of HIV in the body. Tenofovir alafenamide is a prodrug, which means that it is an inactive drug. In the body, tenofovir alafenamide is converted to tenofovir diphosphate (TFV-DP). Tenofovir alafenamide fumarate was approved in November 2015 for treatment of HIV-1.
Related Intermediate:
1) Phenyl ((((R)-1-(6-amino-9H-purin-9-yl)propan-2-yl)oxy)methyl)phosphonate 379270-35-6
2) GS-7340 intermediate 379270-36-7
3) GS-7340 CAS 379270-37-8
4) Tenofovir alafenamide hemifumarate CAS 1392275-56-7