Product Description
Methyl 4-Hydroxy-7-Phenoxyisoquinoline-3-Carboxylate CAS 1455091-10-7 is the chemical name of Roxadustat(FG4592/ FG-4592) Intermediate. FG-4592 is a HIF inhibitor widely used for the treatment of anemia. FG-4592 Intermediate is white powder offered by our company with high purity and competitive price. We can offer the FG-4592 intermediate in a proper packaging in diverse quantity to meet assorted requirements of the customers.
Thera. Category: Anti-anemia.
Cas No.:1455091-10-7
Synonyms: FG-4592 interMediate;4-Hydroxy-7-phenoxy-3-isoquinolinecarboxylic acid methyl ester
MF: C18H15NO4

NW: 298.77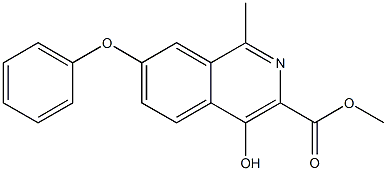 Assay: ≥99%
Packing:Export worthy packing
Material Safety Data Sheet:Available on request
Usage: FG-4592 is an HIF α prolyl hydroxylase inhibitor in clinical development for the treatment of anemia.
Related Intermediates:
1) Methyl 4-Hydroxy-7-Phenoxyisoquinoline-3-Carboxylate 1455091-10-7
2) Methyl 4-Hydroxy-1-Methyl-7-Phenoxyisoquinoline-3-Carboxylate CAS 1421312-34-6
3) 5-Bromophthalide CAS 64169-34-2