Product Description
Carfilzomib cas number is 868540-17-4,which is an intravenously administered tetrapeptide epoxy ketone backbone proteasome inhibitor that selectively and irreversibly binds to the N-terminus of the threonine active site of the 20S proteasome, proteolytically Core particle 26S proteasome. Carfilzomib has antiproliferative and apoptotic activities against solid tumors as well as hematological tumor cells in vitro. In animal studies, carfilzomib inhibits proteasome activity in blood and tissues and delays tumor growth in multiple myeloma, hematology, and solid tumor models. It was approved by the US FDA on July 20, 2012. For patients with relapsed multiple myeloma who have received both therapies including bortezomib and an immunomodulator.
Although carfilzomib cas 868540-17-4 has a good anti-tumor effect, its water solubility is poor, and its stability is not good. The lyophilized preparation is an ideal dosage form. The currently available carfilzomib formulation contains 60 mg of carfilzomib. 3000mg sulfobutyl beta-cyclodextrin sodium and 57.7mg citric acid and an appropriate amount of sodium hydroxide, although the cyclodextrin inclusion compound improves the solubility of the drug to a certain extent, but its drug loading is still less than 2%, And the use of a larger amount of cyclodextrin, will enter the human blood circulation system will increase the burden on the kidney, while cyclodextrin can interact with the cell membrane of the blood vessel wall, causing cell damage, long-term use may cause venous fistula and phlebitis, there are safety risks And dexamethasone is given to prevent the infusion reaction before each dose. In addition, the drug is very unstable in aqueous media solutions and is stable for up to 4 hours at room temperature, which is also a challenge in practical clinical applications.
In summary, the currently marketed carfilzomib injection has a good effect in the treatment of multiple myeloma, but it also brings a lot of inconvenience and safety problems to clinical application.
Carfilzomib CAS 868540-17-4, also known as PR-171 A potent and irreversible proteasome inhibitor. Synthetic analog of the microbial product epoxomcin. Compared to bortezomib it displays equal potency but greater selectivity for the chymotrypsin-like activity of the proteasome. In cell culture it is more cytotoxic than bortezomib and hematologic tumor cells exhibit greater sensitivity than solid tumor cells. Treatment of cells with Carfilzomib CAS 868540-17-4 results in the accumulation of proteasome substrates and induction of cell cycle arrest and/or apoptosis. Effective against multiple myeloma. Active in vivo.
Thera. Category: Anti cancer
Cas No.: 868540-17-4
Synonym: CarfilzoMib salt;CarfilzoMib/PR 171;PR-171 (CarfilzoMib)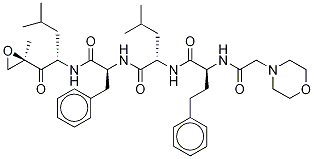 Molecular Formula:C40H57N5O7
Molecular Weight:719.90988
Assay: ≥99.%
Packing: Export worthy packing
lMaterial Safety Data Sheet: Available on request
Usage: Carfilzomib 868540-17-4, A potent and irreversible proteasome inhibitor.