Product Description
Olaparib CAS 763113-22-0 is a poly(ADP-ribose) polymerase inhibitor, abbreviated as PARP inhibitor. He was approved by the FDA on December 19, 2014 for the maintenance treatment of platinum-sensitive recurrent BRCA-mutant ovarian cancer patients and became the first PARP inhibitor for BRCA-mutant platinum-sensitive recurrent ovarian cancer. It can promote the apoptosis of tumor cells by inhibiting DNA damage repair of tumor cells, which can enhance the efficacy of radiotherapy and alkylating agents and platinum-based chemotherapy, and is mainly used for the treatment of breast cancer gene No. 1 or No. 2 (BRCA-1 or BRCA- 2) Gene mutations in cancer. Olaparib CAS 763113-22-0 can selectively act on tumor cells, and normal cells are not destroyed because they retain the double-stranded repair function. Because of the loss or mutation of both alleles in cancer cells, the loss of double-stranded repair function, and the eventual death of cells, this new type of drug brings hope for the treatment of refractory tumors.
Breast cancer and ovarian cancer are public health problems that seriously threaten women's health. In recent years, the incidence rate has been slowly increasing. Among them, ovarian cancer is the most serious challenge faced by gynecologic oncologists because it has no mature method of early diagnosis. About 70% of patients are diagnosed at the advanced stage. Even after effective treatment reaches complete remission, 70% of patients will relapse. 5 The annual survival rate has been hovering around 30-40%. Therefore, people try to image other chronic diseases and establish three levels of prevention and control measures for ovarian cancer
Olaparib and other PARP inhibitors under development are oral preparations that are better tolerated, so these drugs can be used for longer periods of time than traditional chemotherapy. Olaparib CAS 763113-22-0 prevents an enzyme involved in cell repair and is suitable for patients with certain mutations. This drug also has good prospects for the treatment of other cancers, which opens up a considerable market opportunity for Olaparib.
On February 2, 2015, the EU Food and Drug Administration (EMA) also approved the listing of Olaparib in 28 countries in the European Union including Iceland, Liechtenstein, and Norway. However, the FDA-approved indication is slightly different from that of the FDA, which is a maintenance therapy for patients with advanced epithelial ovarian cancer who have been treated with platinum-based chemotherapy and responded to the BRCA gene mutation and have relapsed.
Researchers at the Dana-Farber Cancer Institute at Harvard Medical School have found that the site of action of olaparib is polymerase Q (POLQ, also known as POLθ). These scientists discovered that a large number of homologous recombination (HR) repair pathway genes in patients with ovarian cancer are defective and that POLQ protein expression is greatly upregulated, and HR is an important repair pathway to repair DNA breakage. They speculate that POLQ is to make up for the absence of HR and participate in the repair of DNA.
Experiments have shown that in HR-normal cells, knocking out POLQ will significantly increase HR activity; in HR-deficient cells, knocking out POLQ will cause cell death. POLQ contains a RAD51 binding membrane that blocks RAD51-mediated DNA repair. The relevant research results were published in Nature on February 12, 2015. The study revealed that about 10% of ovarian cancer patients and 5% of breast cancer patients carry BRCA1 or BRCA2 gene mutations. BRCA1 and BRCA2 are tumor suppressor genes, which are the major components of the HR repair pathway. Their mutations indicate the HR repair pathway. Missing. In a cancer model with BRCA1 or BRCA2 mutations, PARP, an important component that blocks repair of single-stranded DNA breaks, can synthesize kill-mutant cancer cells. Incubation of BRCA-deficient mice with POLQ-deficient mice resulted in the embryos dying shortly after inoculation, which means that there are two repair defects with embryonic lethality.
The above findings indicate that olaparib, a novel oral PARP inhibitor capable of killing BRCA-deficient cells, may become a cancer treatment drug for carriers of such mutations. Previously, people's understanding of the BRCA mutation has not affected the treatment options of ovarian cancer or breast cancer. After this study, it means that olaparib can be used for the targeted treatment of tumor patients with BRCA1 or BRCA2 mutations. The therapeutic target is a genetic defect of the cancer cell but not the target organ.
In ovarian and breast cancer cells, BRCA mutations are the first blow to cell survival because it increases their susceptibility to DNA damage. By targeting the PARP-controlled backup repair pathway, olapa and its similar drugs have achieved the second blow to cell survival. With the dysregulation of two repair signal pathways, the accumulation of DNA damage exerted a third blow on cells.
After oral administration of olaparib by a capsule formulation, it is rapidly absorbed. Peak plasma concentrations are typically achieved 1 to 3 hours after administration. There was no significant accumulation with multiple dosing (total dose ratio 1.4–1.5 vs. twice daily dosing) and steady state exposure was achieved within 3 to 4 days.

Thera. Category: Anti-cancer
Cas No.: 763113-22-0
Synonym:AZD2281(olaparib)/AZD-2281;1-(Cyclopropylcarbonyl)-4-[5-[(3,4-dihydro-4-oxo-1-phthalazinyl)Methyl]-2-fluorobenzoyl]piperazin;Olaparid AZD2281;Olaparib (AZD2281, Ku-0059436);Olaparid;4-(3-(4-(Cyclopropanecarbonyl)piperazine-1-carbonyl)-4-fluorobenzyl)phthalazin-1(2H)-one;4-[[3-[[4-(Cyclopropylcarbonyl)-1-piperazinyl]carbonyl]-4-fluorophenyl]Methyl]-1(2H)-phthalazinone;KU 59436;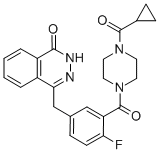 Molecular Weight:434.469
Molecular formulate: C24H23FN4O3
Assay: ≥98.%
Appearance: White Crystalline solid
Packing:Export worthy packing
Material Safety Data Sheet:Available on request