Product Description
Quercetin dihydrate cas number 6151-25-3 which is a natural bioflavonoid.
Both skin photoaging and ultraviolet (UV) induction can cause excessive production of reactive oxygen species (ROS) in the skin, resulting in damage or apoptosis of skin microvascular endothelial cells. Quercetin cas 6151-25-3 has an effective scavenging effect on ROS such as singlet oxygen, superoxide anion and oxygen peroxide. The scavenging effect is mainly reflected in the following aspects: First, the chemical structure of quercetin contains a hydrogen donor ortho-diphenolic hydroxyl structure, which can directly remove ROS by single electron transfer; second, quercetin is related to free radical production. The enzyme phase acts to indirectly remove ROS; thirdly, metal iron, copper, etc. are catalysts for many free radical generation processes, and the catechol structure in the quercetin molecule can chelate the metal ions Fe2+ and Cu2+, thereby Give it its antioxidant effect. In addition, the stratum corneum of the skin is rich in lipids, and lipids usually face free radical-mediated peroxidation. These alkyl compounds produced by peroxidation of lipids often cause streaks on the surface of the skin, etc. It is important that these substances also cause damage to multiple functions of skin tissue cells. Quercetin can block lipid peroxidation chain reactions by scavenging ROS and chelated metal ions, thereby inhibiting lipid peroxidation.
Due to the planar characteristics of quercetin molecules, crystals are formed by overlapping in two dimensions, resulting in a structure that is almost insoluble in water despite the distribution of hydroxyl groups (containing 5), and the solubility in most oils and fats. Less than 1.0 mg/g is precisely due to its unique oil-water two-difficulty properties, which greatly limits its absorption and bioavailability in the skin.

Thera. Category: Natural bioflavonoid
Cas No.: 6152-25-3
Synonym: 3,3',4',5,7-Pentahydroxyflavone dihydrate; 2-(3,4-Dihydroxyphenyl)-3,5,7-trihydroxy-4H-1-benzopyran-4-one dihydrate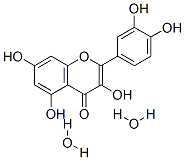 Molecular Formula:C15H14O9
Molecular Weight:338.27
Assay: ≥99.%
Packing: Export worthy packing
lMaterial Safety Data Sheet: Available on request