Product Description
Bortezomib (BTZ),cas number is 179324-69-7, a novel proteasome inhibitor, has been used in the treatment of multiple myeloma. It affects the tumor microenvironment, increases the degree of endoplasmic reticulum stress and induces tumor cell apoptosis to achieve the purpose of treating tumors. However, bortezomib cas number 179324-69-7 is not effective in the treatment of solid tumors, even myeloma, and about 40% of tumor patients are sensitive to bortezomib. Bortezomib also causes side effects such as peripheral neuropathy, thrombocytopenia, and cardiotoxicity when administered systemically. Some patients may even develop resistance to bortezomib during treatment. These problems have greatly limited the use of bortezomib in biomedical and clinical gene therapy.
Thera. Category: Anti cancer
Cas No.: 179324-69-7
Synonym: Bortezomib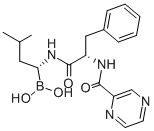 Molecular Formula:C19H25BN4O4
Molecular Weight:384.24
Assay: ≥99.%
Packing: Export worthy packing
lMaterial Safety Data Sheet: Available on request
Bortezomib 179324-69-7 is the first proteasome inhibitor to be approved by the US FDA for multiple myeloma, a blood cancer. A reversible inhibitor of the 26S proteasome-a barrel-shaped multiprotein particle found in the nucleus and cytosol of all eukaryotic cells. Targets the ubiquitin-proteasome pathway.