Product Description
Obeticholic Acid major intermeidates named as 6 - ethyl - 3 - hydroxy - 7 - oxo -, (3α, 5β, 6β) - CAS 915038-24-3, Molecular formula: C26H40O4. Our batch production has been reached scale of more than 10 kilograms,HPLC result is always more than 99%. We always have the size of kilograms of inventory. we are enable to delivery dozens of kilograms of orders within 25 days. The product can be packaged in grams and kilograms. Our products are widely available for drug registration declaration companies and large pharmaceutical companies to research and development.

Thera. Category: Cholestatic liver disease
Cas No.: 915038-24-3
Synonym: (R)-4-((3R,5R,8S,9S,10R,13R,14S,17R,E)-6-ethylidene-3-hydroxy-10,13-dimethyl-7-oxohexadecahydro-1H-cyclopenta[a]phenanthren-17-yl)pentanoic acid

Molecular Formula:C26H40O4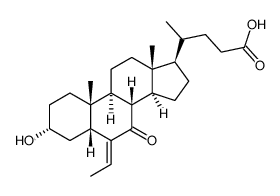 Molecular Weight: 416.59300
Purity: ≥98.%
Packing:Export worthy packing
Material Safety Data Sheet:Available on request
Obeticholic acid (Obeticholic Acid), also known as 6-ethyl chenodeoxycholic acid, is a new derivative of chenodeoxycholic acid (CDCA) in the primary bile acid, and a natural ligand for the farneside derivatives X receptor ( FXR). Oberbetaine is an agonist for farnesol X receptor, inhibiting gene expression of cytochrome 7A1 (CYP7A1) by activating the farnesol X receptor. Because CYP7A1 is the rate-limiting enzyme for biosynthesis of cholic acid, it can inhibit cholic acid synthesis and is useful in the treatment of primary biliary cirrhosis and nonalcoholic fatty liver disease.
Related products:
Obeticholic Acid Cas 459789-99-2
6 - ethyl - 3 - hydroxy - 7 - oxo -, (3α, 5β, 6β) - CAS 915038-24-3
3α-hydroxy-6-ethyl-7-keto-5β-cholan-24-oic acid CAS 915038-26-5
Obeticholic Acid Intermediate 3 CAS number is 1516887-33-4