Product Description
Brivaracetam CAS number is 357336-20-0, the third-generation anti-epileptic drug newly developed by UCB in Belgium, was approved by EMEA and FDA in January and February 2016 for use in epilepsy patients over the age of 16 Adjuvant therapy for sexual seizures. As a novel SV2A high-affinity ligand,Brivaracetam CAS 357336-20-0 has a certain inhibitory effect on voltage-dependent sodium channels. According to the clinical research data of the original research company, the anticonvulsant ability of Brivaracetam is 10 times stronger than that of the first brand drug levetiracetam in the field of epilepsy drugs. As a substitute after the expiration of the patent of levetiracetam, It is expected to become a leader in the anti-epileptic drug market.
The incidence of major adverse events was similar to that of the placebo group, with mild to moderate fatigue, headache, nasopharyngitis, nausea, lethargy, and dizziness. No patients discontinued treatment due to adverse events. The results indicate that Brivaracetam tablets are effective and well tolerated in the adjuvant treatment of patients with refractory epilepsy with a prevalence of 16 to 65 years of age.
According to the introduction method of the chiral center of carbon bonded to propyl carbon, there are two main types of methods for the synthesis of Brivaracetam. The first one is introduced by chiral separation, for example, the method disclosed by UCB. After obtaining basistatin and its diastereomers, Brivaracetam was obtained by chiral column preparation. Such methods are costly; another method is to introduce a chiral center by asymmetric synthesis. For example, the method disclosed in CN106279074A, the chiral intermediate (R)-4-propyl-dihydrofuran-2-one is obtained by a multi-step asymmetric synthesis method; the method disclosed in CN108101824A, which is introduced by asymmetrically reducing an olefin bond. Sexual center; from the perspective of industrial feasibility and cost, the method of asymmetric introduction of chiral centers is more promising.

Thera. Category: Anti-Epilepsy
Cas No.:357336-20-0
Synonym: brivaracetam;(alphaS,4R)-alpha-Ethyl-2-oxo-4-propyl-1-pyrrolidineacetamide;UCB-34714;1-PyrrolidineacetaMide, α-ethyl-2-oxo-4-propyl-, (αS,4R)-;(S)-2-((R)-2-oxo-4-propylpyrrolidin-1-yl)butanaMide;2(S)-[2-Oxo-4(R)-propylpyrrolidin-1-yl]butyramide;Briviact;(2S)-2-[(4R)-2-oxo-4-propylpyrrolidin-1-yl]butanamide

Molecular Formula:C33H41N3O10S2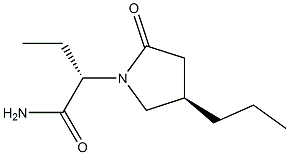 Molecular Weight:703.83
Assay: ≥98.%
Packing:Export worthy packing
Material Safety Data Sheet:Available on request
Usage: Brivaracetam 357336-20-0 is a racetam derivative of levetiracetam used in the treatment of partial-onset seizures. Brivaracetam binds SV2A with 20 times higher affinity than levetiracetam 2. It is available under the brand name Briviact made by UCB.