Product Description
Bistrifluron cas number is 201593-84-2,which is a highly active insect growth regulator. It is a novel phenylbenzoyl urea derivative, which is a chitin synthesis inhibitor, which can inhibit the formation of chitin in insects, affect the formation of inner epidermis, and cause insects to die without being smooth. Bistrifluron cas number 201593-84-2, has high efficiency and low toxicity, is generally effective against resistant pests, and is 25 to 50 times more active than 2-bromo-3,5-bis(trifluoromethyl)phenylbenzoylurea. It effectively controls most lepidopteran pests of various plants such as vegetables, tea, cotton, etc., and is highly safe against crops, humans and animals.
Bistrifluron is a novel 2-chloro-3,5-bis(trifluoromethyl)phenylbenzoyl urea derivative with novel structure, unique mechanism of action and high biological activity. Bistrifluron has significant growth and development inhibitory effects on insects and has special effects on whitefly.
In actual use, it has been found that the single dose of bistrifluridazole has a rapid variation in the rapidity of lepidopteran pests over 3 years old, and there is a risk of developing resistance. The insecticide obtained by compounding bistriazole urea and chlorfenapyr bisamide has obvious synergistic effect and delays the generation of drug resistance. If the two are combined in a 1:1 ratio to prevent and control the whitefly, the effect is fast, the effect time is long, and the control effect is good. The insecticidal effect increases with increasing dosage. According to experimental observations, various proportions of the compounded form did not cause phytotoxicity to cucumber. It is of great significance for improving the quality and increasing yield of cucumber, and has a strong promotion and use value.

Bistrifluron CAS number is 201593-84-2 ,a highly active insect growth regulator, novel structure, unique mechanism of action, has good effect on whitefly, there is 25-50 times higher than 2-bromo-3,5-bis (tris Fluoromethyl) phenylbenzoyl urea which publised in the world patent WO95 / 33711. The compounds inhibit the formation of chitin insects, affecting the formation of the inner epidermis, so that insects can not smooth molting and death, there are effective control of vegetables, tea, cotton and other plants of the majority of Lepidoptera pests, generally has effective on pests, AndBistrifluron CAS number 201593-84-2 is highly safe for crops, natural enemies, humans and animals and the environment. In order to improve the prevention and treatment effect, in practice,people often with ring insectic acid hydrazide and bifalefural urea combination, which can greatly improve the efficacy, significantly longer control time.
Thera. Cat
egory:
Insecticide
Cas No.: 201593-84-2
Synonyms:N-[[[2-Chloro-3,5-bis(trifluoromethyl)phenyl]amino]]carbonyl](2,6-difluorophenyl)formamide;Bistrifluron;Bistrifluron [iso];1-[2-Chloro-3,5-bis(trifluoromethyl)phenyl]-3-(2,6-difluorobenzoyl)urea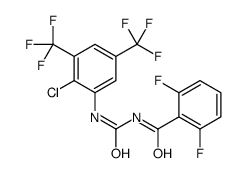 Molecular Formula: C16H7ClF8N2O2

Molecular Weight: 446.684004
Purity: ≥98%
Packing: Export worthy packing
Material Safety Data Sheet: Available on request