Product Description
Ticagrelor cas number is 274693-27-5, which belongs to the cyclopentyltriazolopyrimidine compound and is a novel and selective small molecule anticoagulant drug for acute coronary syndrome that can reduce cardiovascular death, myocardial infarction or stroke complex. The incidence of the endpoint. The drug was approved by the European Medicines Agency and the US Food and Drug Administration in 2010 and 2011 respectively.
Ticagrelor cas number 274693-27-5 is a platelet aggregation inhibitor whose clinical efficacy and safety have been validated and supported by platelet inhibition and patient outcome studies and its multiple subgroup studies. At the 2009 European Society of Cardiology annual meeting, Professor Wallentin of the Uppsala Clinical Research Center in Sweden pointed out in the research report that ticagrelor has better efficacy than the current standard, which can significantly reduce the patient's heart. The incidence of vascular events without increasing major bleeding. More importantly, ticagrelor was significantly better than clopidogrel, and ticagrelor significantly reduced cardiovascular death and overall mortality compared with clopidogrel.

Thera. Category: P2Y12 receptor
Cas No.: 274693-27-5
Synonyms: TICAGRELOR;(1S,2S,3R,5S)-3-[7-[[(1R,2S)-2-(3,4-Difluorophenyl)cyclopropyl]amino]-5-(propylthio)-3H-1,2,3-triazolo[4,5-d]pyrimidin-3-yl]-5-(2-hydroxyethoxy)-1,2-cyclopentanediol;Azd 6140;Unii-glh0314rvc;(1S,2S,3R,5S)-3-(7-(((1S,2S)-2-(3,4-difluorophenyl)cyclopropyl)aMino)-5-(propylthio)-3H-[1,2,3]triazolo[4,5-d]pyriMidin-3-yl)-5-(2-hydroxyethoxy)cyclopentane-1,2-diol;AR-C 126532XX;Ticagrelor(AR-C 126532XX;Ticagrelor (AZD6140)
Molecular Formula: C23H28F2N6O4S
Molecular Weight: 522.574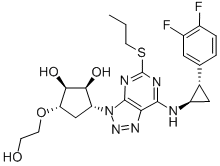 Assay: ≥99%
Packing: Export worthy packing
Material Safety Data Sheet: Available on request
Usage :
Ticagrelor is a reversible antagonist of the platelet purinergic P2Y12 receptor, which is the main receptor responsible for ADP-induced platelet aggregation.
Related intermediate:
1) 274693-27-5 Ticagrelor
2) 4,6-Dichloro-5-nitro-2-(propylthio)pyrimidine 145783-14-8
3) 4,6-Dichloro-2-propylthiopyrimidine-5-amine 145783-15-9
4) (1R,2S)-2-(3,4-difluorophenyl)cyclopropanamine L-Tartaric acid 220352-39-6
5) 1156491-10-9, (1R trans)-2-(3,4-difluorophenyl)cyclopropane amine
6) 376608-74-1, Ethanol,2-[[(3aR,4S,6R,6aS)-6-[[5-aMino-6-chloro-2-(propylthio)-4-pyriMidinyl]aMino]tetrahydro-2,2-diMethyl-4H-cyclopenta-1,3-dioxol-4-yl]oxy]-
7) 376608-71-8, (1R,2S)-2-(3,4-Difluorophenyl)cyclopropanamine (2R)-Hydroxy(phenyl)ethanoate
8) 376608-65-0, 2-((3aR,4S,6R,6aS)-6-amino-2,2-dimethyltetrahydro-3aH-cyclopenta[d][1,3]dioxol-4-yloxy)ethanol L-tataric acid