Product Description
Bilastine CAS number 202189-78-4 which is a second-generation histamine H1 receptor antagonist with no hepatic first-pass effect, no central sedation, no cardiotoxicity, no interaction with cytochrome P450 enzyme substrates and with strong antihistamine properties for the treatment of urticaria and seasonal allergic rhinoconjunctivitis in adults and adolescents over the age of 12 years. In 2010, the European Union approved it for the treatment of allergic rhinitis and chronic idiopathic urticaria. His safety is good, there is no sedation and cardiotoxicity in the presence of commonly used antihistamines.
The synthesis of Bilastine cas 202189-78-4 is extremely difficult and its unique quaternary carbon atoms are very difficult to build. Due to it has the inclusion of a piperidine ring structure, Bilastine has a higher density of electrons on nitrogen and is easily oxidized in the presence of oxidants. It is easily Oxidation to generate 4-[2-[4-[1-(2-ethoxyethyl)-1H-benzimidazol-2-yl]-1-oxide-piperidine]Ethyl]-α,α-dimethylphenylacetic acid during production and storage, the polarity of this impurity is close to that of Blastine, and it is relatively large, so it is not easy to remove by conventional methods, thus affecting the quality of the entire product. Therefore, the impurities introduced in the synthesis of Blaisetin and the impurities introduced after degradation require strict quality control in both the Bilastin API and its preparations, so that it is possible to effectively detect all potential of Bilastine Impurities, the improvement of the synthesizing process of comparative Rastin, and the quality control of APIs and preparations are all of great significance.

Thera. Category: Antihistamines
Cas No.:202189-78-4
Synonym:4-[2-[4-[1-(2-Ethoxyethyl)-1H-benzimidazol-2-yl]-1-piperidinyl]ethyl]-alpha,alpha-dimethylbenzeneacetic acid;Bilastine;4-[2-[4-[1-(2-Ethoxyethyl)-1H-benziMidazol-2-yl]-1-piperidinyl]ethyl]-α,α-diMethylbenzeneacetic Acid;Benzeneacetic acid,4-[2-[4-[1-(2-ethoxyethyl)-1H-benziMidazol-2-yl]-1-piperidinyl]ethyl]-a,a-diMethyl-;Bilasten;2-[4-[2-[4-[1-(2-ethoxyethyl)benzimidazol-2-yl]piperidin-1-yl]ethyl]phenyl]-2-methylpropanoic acid;BENZENEACETIC ACID, 4-(2-(4-(1-(2-ETHOXYETHYL)-1H-BENZIMIDAZOL-2-YL)-1-PIPERIDINYL)ETHYL-ALPHA, ALPHA-DIMETHYL-;2-[4-[2-[4-[1-(2-ethoxyethyl)benzoimidazol-2-yl]-1-piperidyl]ethyl]phenyl]-2-methyl-propanoic acid;
Molecular Structure: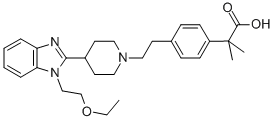 Molecular Formula:C28H37N3O3
Molecular Weight:463.61
Pharmacopeia: In house Spec.
Specifications:Available on request
Packing:Export worthy packing
Material Safety Data Sheet:Available on request
Bilastine Related Intermediates:
2-(4-(2-hydroxyethyl) phenyl)- 2-methylpropanoic acid 552301-45-8

2-(4-(2-(4,4-dimethyl-4,5-dihydrooxazol-2-yl)propan-2-yl)phenyl)ethanol 361382-26-5
4-(2-(4,4-dimethyl-4,5-dihydrooxazol-2-yl)propan-2-yl)phenethyl 4-methylbenzenesulfonate 202189-76-2
Methyl 2-methyl-2-(4-(2-(tosyloxy)ethyl)phenyl)propanoate 1181267-30-0
Methyl 2-(4-(2-chloroethyl)phenyl)-2-methylpropanoate 1181267-33-3
Tert-butyl 4-(1-(2-ethoxyethyl)-1Hbenzo[d]imidazol-2-yl) piperidine-1-carboxylate 1181267-36-6
1-(2-ethoxyethyl)-2-(piperidin-4-yl)-1Hbenzo[d]imidazole dihydrochloride 1841081-72-8