Product Description
Tacrolimus Monohydrate a FKBP Inhibitor As known as FK-506 monohydrate (CAS 109581-93-3), a potent immunosuppressant, neuroprotective and neuroregenerative, Appearance:White or almost white crystalline powder Purity: >98%. Molecular Formula: C44H69NO12. MW: 804.02 Solubility: 100 mg/ml in DMSO, (Tacrolimus Monohydrate 109581-93-3)) is used to treat a skin disease known as eczema (sometimes referred to as atopic dermatitis), and the symptoms this condition causes, such as dry and itchy skin, rashes and inflammation.
Thera. Category: A Androgen Receptor Moduler
Cas No.: 109581-93-3
Synonym: FK-506;,8s*,9e,12r*,14r*,15s*,16r*,18s*,19s*,26ar*))-;18-tetramethyl-8-(2-propenyl)-,monohydrate,(3s-(3r*(e(1s*,3s*,4s*)),4s*,5r*;3-(2-(4-hydroxy-3-methoxycyclohexyl)-1-methylethenyl)-14,16-dimethoxy-9,10,12,;tacrolimushydrate;tsukubaenolidehydrate;FK-506 MONOHYDRATE;Tacarolimus
Molecular Formula: C44H69NO12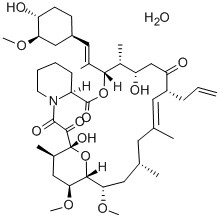 Molecular Weight: 822.04
Assay: ≥98.%
Appearance: White Crystalline solid

Storage: Store at +4°C for short term storage, or at -20°C for long term storage. Stable for at least 2 years after receipt when stored at -20°C.
Packing:Export worthy packing
Material Safety Data Sheet:Available on request
Usage: (FK-506 Monohydrate) 109581-93-3 is Anti-inflammatory compound in the treatment of several inflammatory skin diseases and with potential anti-rheumatic activity (rheumatoid arthritis).