Product Description
MK-2866 as named as Ostarine 1202044-20-9can give you: Increased lean mass gains; Better strength; More endurance; Joint healing abilities; Anabolic,
MK-2866 is Sarm which is selective androgen receptor module created by GTx to avoid and treat muscle wasting. It can later on be a cure for avoiding atrophy (total wasting away of a body part), and Hormone or Testosterone Replacement Therapy. MK-2866 uses its anabolic effects on muscle tissue fully so it`s not only a potential for curing muscle wasting ailments but also it has great potential for muscle building for athletes, bodybuilders and fitness buffs. It is also an agent to reduce degeneration during recovery times from serious surgery or similar conditions.
Ostarine causes muscle growth just like steroids but it won`t produce negative side effects commonly found in anabolic steroids and prohormones such as prostate and other secondary sexual organs.
Thera. Category: A Androgen Receptor Moduler
Cas No.: 1202044-20-9
Synonym: Ostarine(MK-2866);MK-2866 Ostarine;(2S)-3-(4-Cyanophenoxy-2,3,5,6-d4)-N-[4-cyano-3-(trifluoromethyl)phenyl]-2-hydroxy-2-methylpropanamide;((2s)-3-(4-cyanophenoxy)-N-[4-cyano-3-(trifluoroMethyl)phenyl]-2-hydroxy-2-MethylpropanaMide)
Molecular Formula: C19H10D4F3N3O3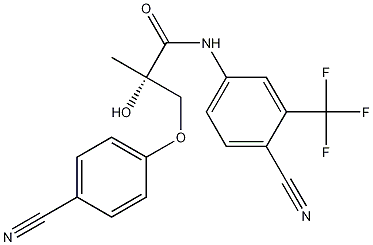 Molecular Weight: 389.3279696
Assay: ≥98.%
Appearance: Crystalline solid

Packing:Export worthy packing
Material Safety Data Sheet:Available on request
Usage: MK-2866 Ostarine (SARM) GTx-024 CAS 1202044-20-9 is a potent and tissue-selective androgen receptor modulator (SARM) for treatment of conditions such as muscle wasting and osteoporosis.