Product Description
Trilostane cas number 13647-35-3 is a new action mechanism of anti-estrogen new drugs, can reduce all endogenous steroids, including estrogen and androgen formation, since it was approved in the market,scholars have studied it for postmenopausal women late Breast cancer, and published a small report of the effective report. Then,after the expiration of the patent, BioEnvision company decided to further study trilostane. A series of clinical trials were conducted in postmenopausal women who were treated with tamoxifen has no response for progressive breast cancer women and registered in more than 780 patients in Europe, the United States and Australia. The results showed that trilostane has high activity on anticancer. Total effective rate was 42%, and the objective response rate to the hormone-sensitive subjects was as high as 55%, both of which were significantly better than the standard two-line drugs Enzyme inhibitors. In addition, older animals, especially older dogs, are susceptible to Cushing's syndrome, and trilostane cas 13647-35-3 can relieve symptoms of more than 90% of the dogs and improve their quality of life, so the drug is also approved in the UK.
Trilostane cas number 13647-35-3 itself has no hormonal activity, so its side effects are less, safety and tolerance are particularly good. Its safety is completely within the acceptable range, the main side effects are mild to moderate diarrhea and abdominal discomfort. However, trilostane can inhibit the production of adrenal hormones, so in the course of medication must be added corticosteroids, such as dexamethasone or hydrocortisone and so on.
Thera. Category: Anti-Cancer
Cas No.: 13647-35-3
Synonym: TRILOSTANE; androstane-2-carbonitrile,4,5-epoxy-17-hydroxy-3-oxo-,(2-alpha,4-alpha,5-al;modrenal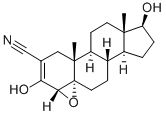 Molecular Formula: C20H27NO3
Molecular Weight: 329.43
Pharmacopeia: in house spe.
Specifications:Available on request
Packing:Export worthy packing
Material Safety Data Sheet:Available on request