Product Description
Maxacalcitol CAS number is 103909-75-7, a novel third-generation active vitamin D3 agonist, is used to treat abnormal symptoms of vitamin D metabolism caused by secondary hyperparathyroidism. Its injection was launched in 2000 under the trade name Oxarol for the treatment of secondary hyperparathyroidism (SHPT) in patients with renal dialysis (renal failure). Its ointment is used to treat cognac such as psoriasis. skin disease. After the marketing of Maxacalcitol, it showed good therapeutic effect in the clinical application process, and the adverse reactions such as hypercalcemia were not obvious, and the patients were highly tolerant and suitable for clinical promotion. In addition, maxacalcitol can act on osteoblast-like cells and promote the expression of osteocalcin gene.
Maxacalcitol CAS number 103909-75-7 produces a lot of chiral isomer impurities during the production process and therefore requires a scientific and rational purification method. First, the crude maxacalcitol is mixed with ethyl isobutyrate, stirred, heated to 70-90℃ to obtain a clear solution; then the resulting clear solution is cooled to -5℃ - 30℃ in 1 hour - 5 hours, The crystallized mixture was stirred for 2 hours to 6 hours; then, the mixture was filtered under reduced pressure, and the obtained solid was washed with ethyl isobutylate, and finally dried to obtain the product. The mass ratio of the crude macacalcitol to the ethyl isobutyrate is 1:4, and the mass ratio of the ethyl isobutyrate to the crude mass of the maxacalcitol is 2:1; the Maxacalcitol obtained according to the above method, The purity of the bone alcohol is high, the content of the chiral isomer impurities is less than 0.1%, and the operation is simple and the yield is high.
Maxacalcitol is stable for 36 months in an amber bottle at -80 ℃ under inert atmosphere, stable for 6 months in an amber bottle at -20℃ under inert gas, and at 25℃ in an inert atmosphere, The next amber bottle was decomposed after 4 weeks of storage.

Thera. Category: Nutritional Supplement
Cas No.:103909-75-7
Synonyms:MAXACALCITOL;(5Z,7E)-9,10-Seco-22-oxacholesta-5,7,10(19)-triene-1α,3β,25-triol;22-Oxa-1α,25-dihydroxycholecalciferol;Oxacalcitriol;(+)-(5Z,7E)-(1S,3R,20S)-20-(3-Hydroxy-3-methylbutyloxy)-9,10-secopregna-5,7,10(19)-triene-1,3-diol;1,3-Cyclohexanediol, 4-methylene-5-[(2E)-2-[(1S,3aS,7aS)-octahydro-1-[(1S)-1-(3-hydroxy-3-methylbutoxy)ethyl]-7a-methyl-4H-inden-4-ylidene]ethylidene]-, (1R,3S,5Z)-;(1R,3S,5Z)-4-Methylene-5-[(2E)-2-[(1S,3aS,7aS)-octahydro-1-[(1S)-1-(3-hydroxy-3-methylbutoxy)ethyl]-7a-methyl-4H-inden-4-ylidene]ethylidene]-1,3-cyclohexanediol;4-methylene-5Z-[2E-[(3aS)-octahydro-1S-[1S-(3-hydroxy-3-methylbutoxy)ethyl]-7aS-methyl-4H-inden-4-ylidene]ethylidene]-1R,3S-cyclohexanediol
MF: C26H42O4

NW:418.61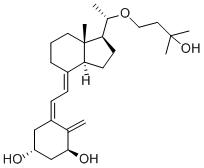 Assay: ≥99%
Packing:Export worthy packing
Material Safety Data Sheet:Available on request