Product Description
Eldecalcitol CAS number is 104121-92-8, which is another new active vitamin D3 derivative for the treatment of osteoporosis after Alfacalcidol, which can increase bone density and reduce fracture risk more effectively. According to the study, a three years phase III clinical data from 1054 patients with osteoporosis showed that edoderol was superior to alfacalcidol and safely similar to alfacalcidol. , has a good application prospects. Today's global aging is getting worse and the number of people with osteoporosis is huge. According to the International Osteoporosis Foundation, more than 400 million people worldwide suffer from low bone density or osteoporosis by 2020, and by 2050 The number will rise to 600 million people. As the latest treatment of osteoporosis drugs, Eldecalcitol CAS number 104121-92-8 has a promising market prospect.
The synthetic route of Eldecalcitol is long, difficult, and high in production cost. With the development of modern separation technology, preparative liquid chromatography is widely used in the field of separation. In order to obtain high-purity products as much as possible, it is a good choice to use crude oil of purified lysine by preparative liquid chromatography. However, the Eldecalcitol obtained after the separation is an amorphous solid. After research and comparison, it is found that the stability of the product of the amorphous solid is much lower than that of the solid product with the crystalline form, and the cost of separation using the preparative liquid chromatography is also high. In order to improve the stability of the product and reduce the cost of purification, researchers have been able to obtain high yield and high purity conditions through screening and optimization of a plurality of crystallization conditions, and the obtained solid product has an unreported crystal form. At the same time, it has been proved by stability that its stability is much higher than that of amorphous solids, which is suitable for long-term preservation or preparation. The specific method is as follows:
1 g of crude Eldecalcitol was mixed with 10 mL of ethyl acetate in a round bottom flask, and the mixture was heated while stirring to an internal temperature of 35 to 40 degrees until a transparent and uniform solution was formed. The heating was stopped, and after slowly cooling to room temperature, the round bottom flask was sealed and placed at -18 degree for freezing and crystallization. After 10 to 16 hours, it was taken out, filtered, and the filter cake was washed with ethyl acetate (EtOAc), and the solid was collected, and dried under vacuum at room temperature to yield 873 mg of white solid Eldecalcitol.
Thera. Category: Treatment of Osteoporosis
Cas No.:104121-92-8
Synonyms:2-(3-hydroxypropoxy)-1,25-dihydroxyvitamin D3;Eldecalcitol;ED-71;Eldecalcitol(ED-71);2.beta.-(3-Hydroxypropoxy)-1.alpha.,25-dihydroxyvitaMin D3;(1R,Z)-5-((E)-2-((1R,7aR)-1-((R)-6-hydroxy-6-methylheptan-2-yl)-7a-methylhexahydro-1H-inden-4(2H)-ylidene)ethylidene)-2-(3-hydroxypropoxy)-4-methylenecyclohexane-1,3-diol;1alpha,25-dihydroxy-2beta-(3-hydroxypropoxy)vitamin D3
MF: C30H50O5

NW: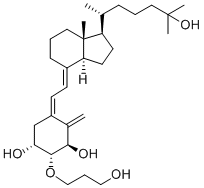 Assay: ≥99%
Packing:Export worthy packing
Material Safety Data Sheet:Available on request