Product Description
Paricalcitol CAS number is 131918-61-1, Paricalcitol is an active vitamin D analogue, a synthetic bioactive vitamin D analogue with a calcitriol side chain (D2) Modified with the A ring (19-nor) to effectively inhibit parathyroid hormone (PTH) levels. Although the structure of paricalcitol is similar to calcitriol, it can inhibit parathyroid hormone faster and more persistently than calcitriol, and has less effect on calcium, phosphorus and calcium phosphate deposition. Sustained high blood calcium, and the drug is better than calcitriol in reducing aortic calcification and improving bone quality, which can reduce the patient mortality, hospitalization frequency and hospital stay, so it is an excellent treatment for bone Loose drugs.
Paricalcitol CAS number 131918-61-1 was first marketed in the United States in 1998 as an injectable preparation. In 2005, the US FDA approved Paricalcitol for the prevention and treatment of secondary hyperparathyroidism. Paricalcitol, like vitamin D, exerts a corresponding physiological effect by binding to the vitamin D receptor. With the discovery of vitamin D receptor expression in different tissues and the corresponding physiological effects, a large number of studies have shown that paricalcitol in addition to hyperparathyroidism, other diseases such as kidney disease, cardiovascular disease, immune inflammatory response , tumors, etc. have a certain effect.
Paricalcitol is insoluble in water, soluble in organic solvents, chemically is unstable, and sensitive to pH and oxygen. At present, Paricalcitol is only available in soft capsules and injections. Stable soft capsules and injection dosage forms are in great demand.

Thera. Category: Vitamin D Analogue
Cas No.:131918-61-1
Synonyms:MAXACALCITOL;(5Z,7E)-9,10-Seco-22-oxacholesta-5,7,10(19)-triene-1α,3β,25-triol;22-Oxa-1α,25-dihydroxycholecalciferol;Oxacalcitriol;(+)-(5Z,7E)-(1S,3R,20S)-20-(3-Hydroxy-3-methylbutyloxy)-9,10-secopregna-5,7,10(19)-triene-1,3-diol;1,3-Cyclohexanediol, 4-methylene-5-[(2E)-2-[(1S,3aS,7aS)-octahydro-1-[(1S)-1-(3-hydroxy-3-methylbutoxy)ethyl]-7a-methyl-4H-inden-4-ylidene]ethylidene]-,( 57202948,1R,3S,5Z)-;(1R,3S,5Z)-4-Methylene-5-[(2E)-2-[(1S,3aS,7aS)-octahydro-1-[(1S)-1-(3-hydroxy-3-methylbutoxy)ethyl]-7a-methyl-4H-inden-4-ylidene]ethylidene]-1,3-cyclohexanediol;4-methylene-5Z-[2E-[(3aS)-octahydro-1S-[1S-(3-hydroxy-3-methylbutoxy)ethyl]-7aS-methyl-4H-inden-4-ylidene]ethylidene]-1R,3S-cyclohexanediol
MF: C27H44O3

NW:418.61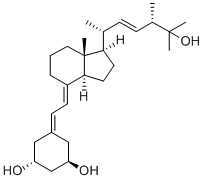 Assay: ≥99%
Packing:Export worthy packing
Material Safety Data Sheet:Available on request