Product Description
Baricitinib key intermediate:2-(1-(ethylsulfonyl)-3-(4-(7-((2-(trimethylsilyl)ethoxy)methyl)-7H-pyrrolo[2,3-d]pyrimidin-4-yl)-1H-pyrazol-1-yl)azetidin-3-yl)acetonitrile cas number is 1187594-13-3, molecular formula is C22H31N7O3SSi,molecular weight is 501.69. It is an important intermediate for Baricitinib. A common synthetic method is as follows: 4-chloropyrrolo[2,3-d]pyrimidine is used as a raw material, and SEM is protected by 2-(trimethylsilyl)ethoxymethyl chloride (SEMCl) to obtain pyrrole [2]. , 3-d]pyrimidine (A), A and boronic acid ester (B) were subjected to Suzuki coupling reaction to obtain the corresponding intermediate C, and C was then deprotected by aqueous solution of hydrochloric acid to obtain pyrazole compound. D, 1-(ethylsulfonyl)azetidine compound E and pyrazole compound D were subjected to Michael addition reaction under DBU catalysis to obtain the target compound Baricitinib key intermediate CAS 1187594-13-3. The main drawbacks of this method are:
1).When 2-(trimethylsilyl)ethoxymethyl chloride (SEMCl) is used for 4-Chloropyrrolo[2,3-d]pyrimidine SEM protection, sodium hydride is required as a base reaction, and the operation is complicated. And subsequent operations are more troublesome;
2). The Suzuki coupling reaction of pyrrolo[2,3-d]pyrimidine and borate ester must be carried out after the NH is protected by a protecting group in the pyrazole, otherwise by-products are easily formed;
3). The total yield of the route reaction is about 52%, and the atomic utilization rate is low.
A new reaction idea using 4-pyrazoleboronic acid pinacol ester as the starting material has been proposed. The total yield of this method has been verified by experiments to be 80%. Compared with the conventional synthesis method, the yield is 30% improved, but some of the raw materials in this route are difficult to buy directly in the market, which is also a problem that must be solved.
Thera Category: JAK Inhibitor
Cas No.: 1187594-13-3
Synonym: 2-[1-ethanesulfonyl-3-[4-(7-[(2-(trimethylsilyl)ethoxy)methyl]-7H-pyrrolo[2,3-d]pyrimidine-4-yl)-1H-pyrazol-1-yl]azetidin-3-yl]acetonitrile;2-(1-(ethylsulfonyl)-3-(4-(7-((2-(trimethylsilyl)ethoxy)methyl)-7H-pyrrolo[2,3-d]pyrimidin-4-yl)-1H-pyrazol-1-yl)azetidin-3-yl)acetonitrile;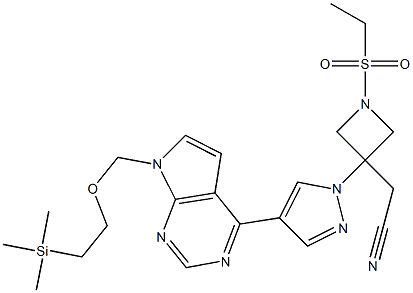 Molecular Formula:C22H31N7O3SSi
Molecular Weight: 501.67714
Specifications: Available on request
Packing:Export worthy packing
Material Safety Data Sheet:Available on request
Related intermediates:
1) Pyrazole-4-Boronic Acid Pinacol Ester CAS 269410-08-4
2) 1-Boc-3-(Cyanomethylene)Azetidine CAS 1153949-11-1
3) 4-Chloro-5H-pyrrolo[3,2-d]pyrimidine CAS 84905-80-6
4) 4-Chloro-7-((2-(Trimethylsilyl)ethoxy)Methyl)-7H-Pyrrolo[2,3-d]pyrimidine CAS 941685-26-3
5) (4-Chloro-7H-pyrrolo[2,3-d]pyrimidin-7-yl)methyl Pivalate CAS 1146629-75-5
6) [4-(1H-Pyrazol-4-yl)-7H-Pyrrolo[2,3-d]pyrimidin-7-yl]methyl Pivalate CAS 1146629-77-7
7) Baricitinib (LY3009104, INCB028050) CAS 1187594-09-7
8) 2-(1-(Ethylsulfonyl)azetidin-3-ylidene)acetonitrile CAS 1187595-85-2