Product Description
Obeticholic Acid intermediate 4 CAS number 1516887-33-4, in recent years Obeticholic acid intermediate 4 synthesis methods and process research has made considerable progress. The process of Obeticholic acid intermediate 4 was still at a low technical level before 2013 year. The two most obvious features were that the purity of the product was no more than 90% and the yield was no more than 20%. In 2013, STEINER et al. Proposed a new method for the synthesis of obeticholic acid intermediate 4 CAS1516887-33-4, which uses 4-oxo-lithocholic acid as the starting material to obtain the target compound after four steps. This method has a better improvement in the large-scale, security and enhance the purity and so. The production process is safer than before, the purity of final product increased to more than 96%, but the product yield is still only 20%, compared with other before methods, there is a lot of progress for this method, but with the real industrial production, their is still a distance.. We have summed up the experience on the basis of a bold exploration, and ultimately the product yield increased to 70% or more, product purity increased to 98% or more.

Obeticholic Acid Intermediate (E)-3A-HYDROXY-6-ETHYLIDENE-7-KETO-5 B -CHOLAN-24-0IC ACID CAS number is 1516887-33-4 ,We also call this the obeticholic intermediate. We conducted a comprehensive study of the intermediate Obeticholic Acid Intermediate,and were able to provide several of its intermediates. we have conducted a positioning analysis on the corresponding impurities , done a full set of NMR, IR,HPLC. As the current market demand for Obeticholic intermediate is relatively small, we accept personalized customization services with favorably prices. We look forward to conducting further discussions and communication with the buyer on the quality of Obeticholic intermediate 3. We strongly hope that our products continue to improve the quality and become your most reliable long-term partners!
Thera. Category: Cholestatic liver disease
Cas No.: 1516887-33-4
Synonym: (E)-3α-hydroxy-6-ethylidene-7-keto-5β-cholan-24-oic acid;Obeticholic Acid-G;

Molecular Formula:C26H40O4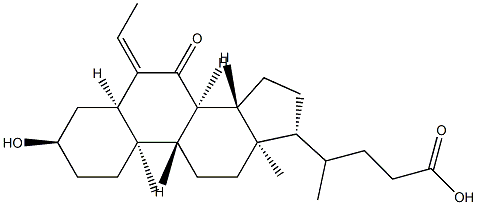 Molecular Weight: 416.5934
Purity: ≥98.%
Packing:Export worthy packing
Material Safety Data Sheet:Available on request
Obeticholic acid (Obeticholic Acid), also known as 6-ethyl chenodeoxycholic acid, is a new derivative of chenodeoxycholic acid (CDCA) in the primary bile acid, and a natural ligand for the farneside derivatives X receptor ( FXR). Oberbetaine is an agonist for farnesol X receptor, inhibiting gene expression of cytochrome 7A1 (CYP7A1) by activating the farnesol X receptor. Because CYP7A1 is the rate-limiting enzyme for biosynthesis of cholic acid, it can inhibit cholic acid synthesis and is useful in the treatment of primary biliary cirrhosis and nonalcoholic fatty liver disease.
Related products:
Obeticholic Acid Cas 459789-99-2
6 - ethyl - 3 - hydroxy - 7 - oxo -, (3α, 5β, 6β) - CAS 915038-24-3
3α-hydroxy-6-ethyl-7-keto-5β-cholan-24-oic acid CAS 915038-26-5
(E)-3A-HYDROXY-6-ETHYLIDENE-7-KETO-5 B -CHOLAN-24-0IC ACID CAS number 1516887-33-4