Product Description
The bifunctional oxime-hydroxyketone oligomer CAS number 163702-01-0, which may also be referred to as photoinitiator 150, may also be referred to as KIP 150. It is a hydroxy ketone compound and is a highly efficient and widely used photoinitiator. Photoinitiators are an important component of UV curing systems and are one of the main factors determining the cure rate and degree of cure of the system. Bifunctional ketone-hydroxy ketone oligomers cas 163702-01-0 have been well applied on substrates such as paper, wood, plastics, metals, optical disks, and optical fibers, and have shown good development prospects. His synthesis has the following steps:
(1) cyclohexylcarboxylic acid and a chlorinating reagent to prepare cyclohexylcarbonyl chloride;
(2) Intermediate p-fluorophenylcyclohexyl ketone prepared by electrophilic substitution reaction of hexylhexanoyl chloride with fluorobenzene or substituted fluorobenzene under Lewis acid catalysis.
(3) The intermediate p-fluorophenylcyclohexyl ketone is subjected to a nucleophilic substitution reaction with a diphenol under the action of a catalyst to obtain an intermediate containing a biscyclohexyl benzophenone structure.
(4) The intermediate containing the biscyclohexyl benzophenone structure obtained in the step 3 is subjected to a substitution reaction with a chlorine gas to generate an α-position active hydrogen by a catalyst to obtain a dichlorocyclohexyl benzophenone intermediate.
(5) The dichlorocyclohexyl benzophenone intermediate obtained in the step 4 is hydrolyzed by a catalyst under the action of a catalyst to obtain a bifunctional quinone-hydroxyketone oligomer.CAS number 163702-01-0.

Thera. Category: Photoinitiator
Cas No.: 163702-01-0
Synonym:KIP 150; Benzene,( 56991466,1-methylethenyl)-, homopolymer, ar-(2-hydroxy-2-methyl-1-oxopropyl) derivs.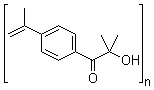 Molecular Formula:(C13H16O2)n
Molecular Weight:342.38568
Assay: ≥99.%
Packing: Export worthy packing
lMaterial Safety Data Sheet: Available on request