Product Description
ETOXAZOLE CAS number is 153233-91-1, a high-efficiency and low-toxic agricultural acaricide, is a novel compound with a diphenyl oxazoline structure. It mainly inhibits the embryonic formation of pupal eggs and the development of pupal eggs. The molting process is effective for eggs and larvae and is not effective for adult pupa, but it has good sterility for female adult pupa and is resistant to rain. The effective period is as long as 50 days. Ethoxazole is safe to the environment and has no or little harm to beneficial insects and beneficial mite. For citrus, cotton, apple, flowers, vegetables and other crops, leafhoppers, leafhoppers, all-claws, two-leafhoppers, cinnabar leafhoppers and other anthraquinones have excellent control effect. Antimony thiabendrone and avermectins have a good control effect. As a new acaricide, there is a problem of high cost of use of etoxazole. Therefore, it is necessary to find a compound that can be combined with him in order to achieve the purpose of both increasing efficiency and reducing costs.
After research, it has been found that the combination of ETOXAZOLE CAS 153233-91-1 and matrine has a good synergistic effect within a certain range. The maturation of plant-sourced matrine and the chemical component of etoxazole is evaded and the mechanism of action between the nerve agent and biosynthetic inhibitor is complementary. In addition, the combination of matrine and etoxazole integrated a contact and stomach Poisoning and ovicidal activity into one body, which has multiple effects on pests, which can play a role in increasing efficiency, expanding spectrum, and extending the effective period. It can reduce the dosage of active ingredients, reduce the cost, and reduce the frequency of application. It is beneficial to insecticide resistance.
In addition, the combination of etoxazole and amitraz protects citrus, apple, vegetables, and tea plants, such as the all-animal scorpions, cinnabar sedges, and two-spotted spider mites, with unexpected control effects. The synergistic effect is obvious.
Thera. Category:Agriculture Chemical
Cas No.: 153233-91-1
Synonyms:yi-5301;2-(2,6-Difluorophenyl)-4-(4-(1,1-dimethylethyl)-2-ethoxyphenyl)-4,5-di hydrooxazole;ETOXAZOLE STANDARD;etoxazol;2-(2,6-Difluorophenyl)-4-[4-(tert-butyl)-2-ethoxyphenyl]-4,5-dihydrooxazole;ETOXAZOLE;Oxazole, 2-(2,6-difluorophenyl)-4-4-(1,1-dimethylethyl)-2-ethoxyphenyl-4,5-dihydro-;etoxazole (bsi, pa iso);
MF:C21H23F2NO2

NW:359.41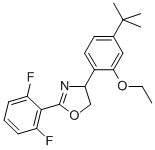 Assay: ≥99%
Packing:Export worthy packing
Material Safety Data Sheet:Available on request