Product Description
Docetaxel a high purity chemical,called NSC 628503; RP 56976; Taxotel,cas number is 114977-28-5,a derivative of paclitaxel, is an anticancer drug directly extracted from the leaves or needles of the natural plant yew yew. It is a cell cycle non-specific antitumor drug. Anti-tumor spectrum is wide. The pharmacological action of docetaxel is similar to other paclitaxel derivatives.
Microtubules is an important component of eukaryotic cells and are formed by microtubule dimers composed of two similar polypeptide subunits. Under normal conditions, there is a dynamic balance between microtubules and tubulin dimers. As a new type of anti-microtubule drug, docetaxel can lose this dynamic balance between the two, induce and promote tubulin polymerization to inhibit depolymerization, and maintain tubulin stability. These effects cause the cells to fail to form spindles and spindles during mitosis, effectively inhibiting cell division and proliferation, thereby exerting an anti-tumor effect.
Docetaxel CAS number 114977-28-5 is clinically used to treat a variety of tumors such as breast cancer, lung cancer, ovarian cancer, gastrointestinal cancer, and leukemia. However, it has systemic toxicity, especially the incidence and intensity of persistent myelosuppression and adverse reactions also increase linearly. According to reports in the literature, after receiving docetaxel for 5-12 months, it will cause renal function decline. In addition, the toxicity of docetaxel to organs such as heart and lung has also been reported, and these side effects have greatly limited its application. Therefore, how to improve his bioavailability and reduce its toxic side effects is what people expect and pay attention to.
Thera. Category: Anti-cancer
Cas No.:114977-28-5
Synonym: NSC 628503; RP 56976; Taxotel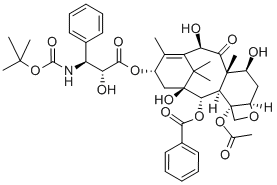 Molecular Weight: 807.88
Molecular formula: C43H53NO14
Purity: ≥99.%
Packing:Export worthy packing
Material Safety Data Sheet:Available on request